Time is one of the most important aspects of business. Be it product development, marketing, supply chain or making payments; time is important. Free Time Management PowerPoint Template can help you depict the importance of time in your presentations with an interesting slide design that is likely to garner some attention.
Man Holding Hourglass Illustration
The template contains two basic slides. One is a title slide and the other can be used for adding your own content. The background is a sandy brown layout with an illustration of a man holding an hourglass. You can start your deck by adding a title with this self-explanatory background to get your time themed presentation started in style.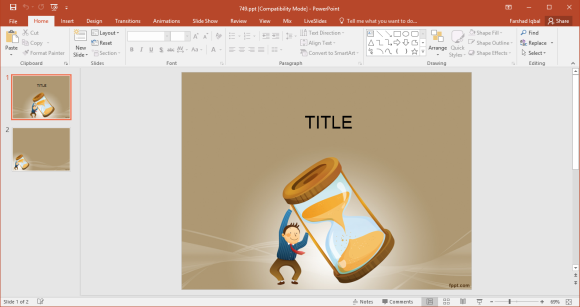 Use Time Background with Appropriate Content
In the content slide you can add your own title and main body text. You can also insert clipart, charts and other types of content according to need. Needless to say, you can always switch to the Layouts tab for adding additional layouts and duplicate the content slide for expanding your slide deck.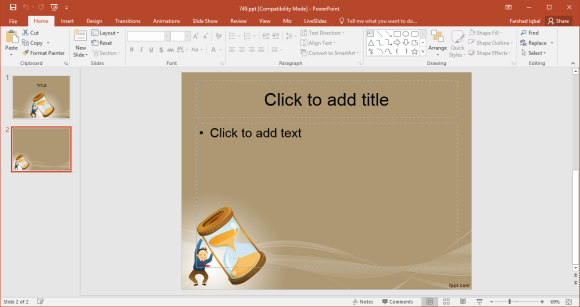 We added a sample chart to the content slide to demonstrate how seamlessly your content can merge with this time themed slide deck. All charts, diagrams and clipart will perfectly complement your slides, especially content with darker color tones. The standard hourglass illustration comes with all sample slides and can be a reminder for your audience regarding the central theme of your presentation; i.e. time.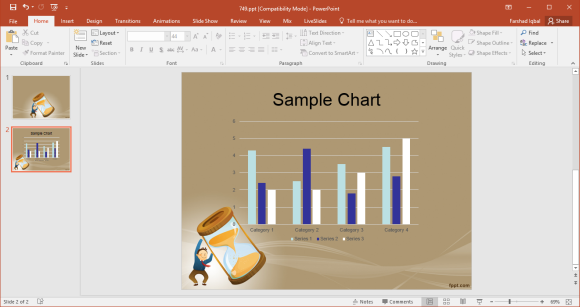 You can download this and thousands of other free presentation templates from FPPT.