Typewriters are now relics of the past. However, there was a time, before computers took over the job of composing text, when these devices had immense value. Typewriters were not only used for composing text on paper but also symbolic for intellect, as many writers composed their works using these elegant machines. While the time of the typewriter has passed, there is no reason not use them in presentation slides to remember the past. The Free Typewriter PowerPoint Template is all about this brilliant machine from the past.
Everything About the Past
This template is everything about the past. The slides not only depict a typewriter but also an old camera, and a classic setting of a typewriter placed next to a coffee mug and a flowerpot with a rose in it. The background picture used in this template imitates the way of writers before the digital age.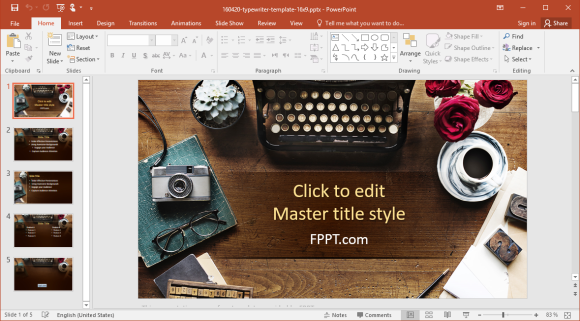 The basic background image is the same; used across all slides. The background design is mixed and matched with various layouts where the empty space on the table has been used for adding placeholders for adding text.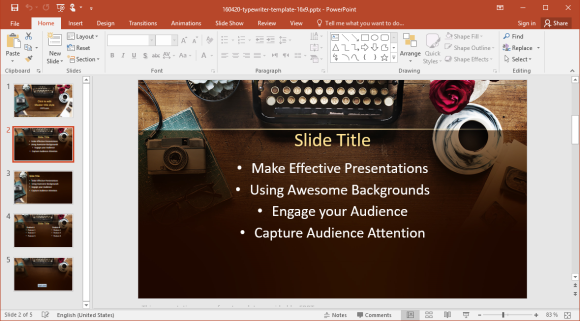 Make Presentation About the Time Before the Digital Age
You can also edit the sample layouts to suit your requirements. The template can be quite nostalgic for people born in the 80s or before the digital age. Even children of the digital age might find the template interesting to discuss the past and create presentations regarding how things used to be before their time. This might be for example for a presentation at school.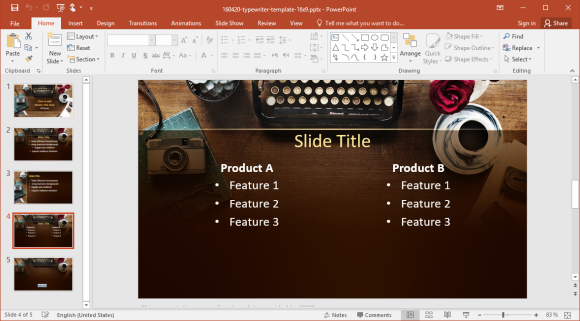 You can download this free template from the FPPT website, which also provides more than 10,000 PowerPoint templates with a plethora of topics and unique slide decks that can give you a lifetime supply of presentation templates.