Presentations regarding nutrition, weight loss, diet management and work-life balance require the type of imagery that can resonate with the audience. The Free Weight Loss PowerPoint Template we have for you provides a mix of the right visuals and placeholders to help you make professional looking slides.
Weight Loss & Nutrition Related Layouts
The illustration of an apple wrapped with a measuring tape, with a weighing machine in the backdrop provides ample visual symbolism to help you discuss weight loss, dieting, nutrition, and health. You can also use this template to make presentations about diabetes, obesity, malnutrition, etc.
Related: How to Create a Proposal for The Healthcare Industry Using MS Word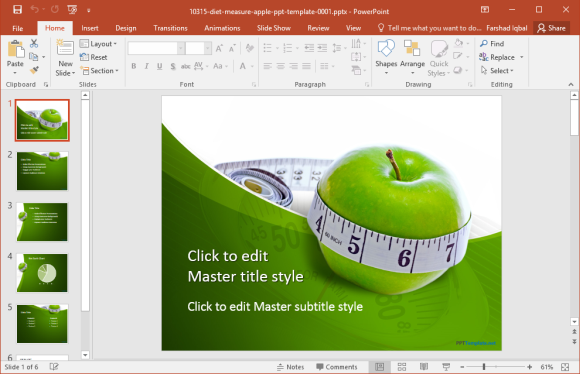 The title slide provides a large version of the apple illustration, followed by slides which show the green apple wrapped with measuring tape located at the top or side of the slides. You can include diagrams, images, clipart, tables and charts to further design your slides.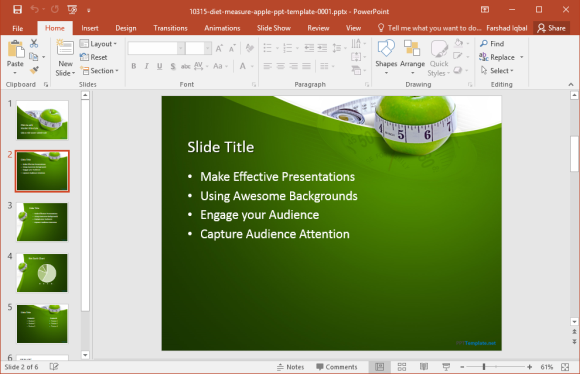 Relaxing Green Background Design
The layouts come with the same greenish layouts which are visually soothing. Furthermore, green is a color that also signifies good health and a clean environment. This can help you have a positive psychological impact on your target audience.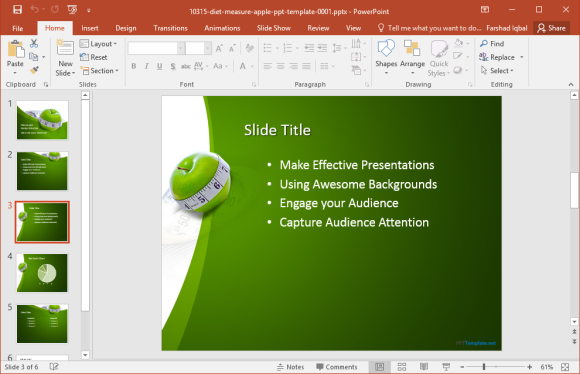 Suitable for Health Related Presentations
This template clearly has a health themed design, with the apple being symbolic for good health. Similarly, a measuring tape wrapped around the apple at the middle is symbolic for reducing weight or managing your diet for achieving positive health related results. The weighing machine in the title slide further adds to this theme. Other than weight loss, you can also incorporate or use the template for topics about cholesterol, gallstones, skin diseases, exercise, maintaining a healthy lifestyle and other related topics.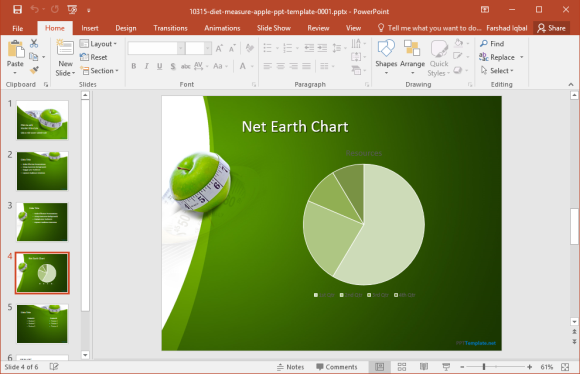 This is a PPTX template so you will require Microsoft PowerPoint 2007 or a later version to use this template.