Most email service providers allow only 25MB file size for attachments in emails. This means that presentations heavier than 25Mb or media files such as audio clips, video files or large images can be impossible to share via email. Moreover, one might prefer sharing more than one file in a single instance, instead of sending a number of emails to the recipient.
Share Files without Signing up for an Account
TransferBigFiles is a web service which makes it possible to share heavy files up to 20GB in size. This service has an easy mechanism by which you can share files without even the need to sign up for an account. Just add files and/or folders via drag and drop, enter the recipients email, a personal message and you're good to go.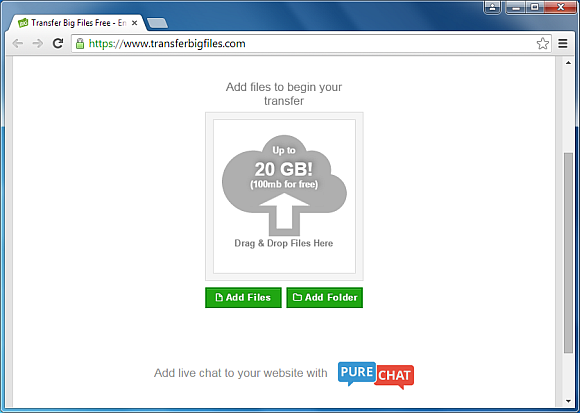 Privately Share Large Files
Once your file has been uploaded, it will appear in green color. After all required files have been uploaded, click Send Transfer. All you have to do is to simply enter a recipient email before you click 'Send Transfer' to email the individual the sharing link.
It is worth mentioning here that some features will require you to sign in with your account, such as the ability to send a custom message with the files, password protection for your files and to get a notification when your files are accessed by the recipient.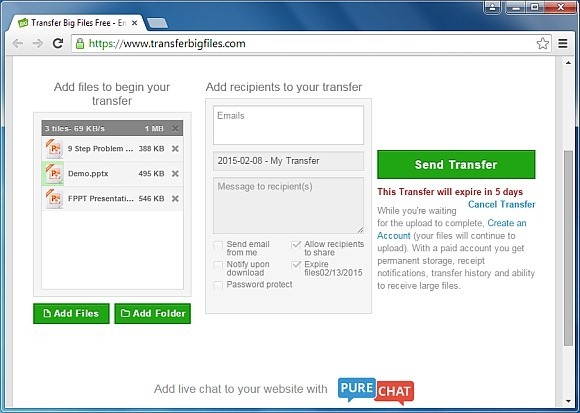 After your files have been sent, they will remain available for the next 5 days during which the recipient can download them.
TransferBigFiles is although a free service, however, you can remove the restrictions like the 5 day availability of files by signing up for a paid account. To be able to keep track of your files, it is advised to sign in with an account when sending files, even if you opt for the free account.
Go to TransferBigFiles