Making a comprehensive grocery list and comparing prices isn't easy, especially if you're relying on manual methods like making comparisons using a piece of paper. On the contrary, using Excel spreadsheets can be a bit laborious, as you might have to input formulas and create lists from scratch.
Grocery List and Price Comparison Template for Excel Online
Using this simple Excel Online Template you can list grocery items and compare their prices. This can help you better manage your monthly budget and help keep an eye out for the most cost-effective menus and items.
To complement your budgeting needs, you can use the Grocery Budget Template for Excel Online with any of these Budget Templates.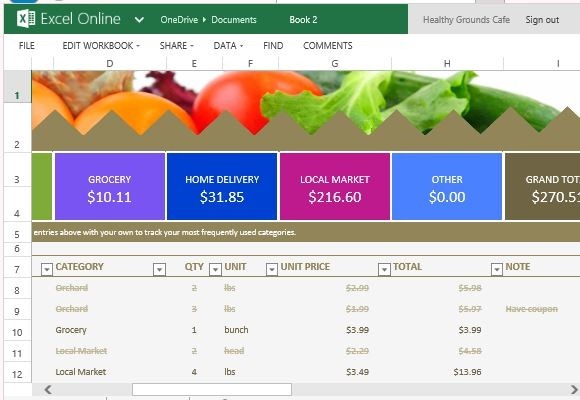 The Grocery Budget Template for Excel Online enables listing grocery items and helps you categorize them, along with the option to add the needed quantity for the items. Items already bought are crossed out to help you keep track of what has been bought and what might be required. Moreover, the pending items are clearly visible and stand out due to the layout of this template, making sure that you do not lose track of the required items in your shopping list.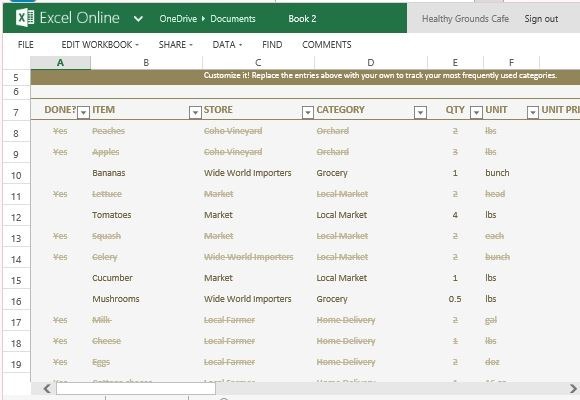 You can easily change and customize the given categories to match your needs, as well as print this list and save the template on your mobile device to keep it handy.
Since the template is in Excel Online, it is easily editable and accessible via any device with an internet connection and a browser, hence enabling you to have on the go accessibility of your grocery list.