Calculating profit and loss for a small or medium size enterprise or individual project can be conveniently done in Excel and if you are looking to circumvent the hassle of adding formulas and formatting a spreadsheet, then this Profit and Loss Template for Excel Online is perfect for the job.
Add Data to Make Your Profit and Loss Statement
The template provides a sample profit and loss statement which you can easily customize to add relevant details to calculate your revenue and to give it a professional look by adding your company name and year in the given space above.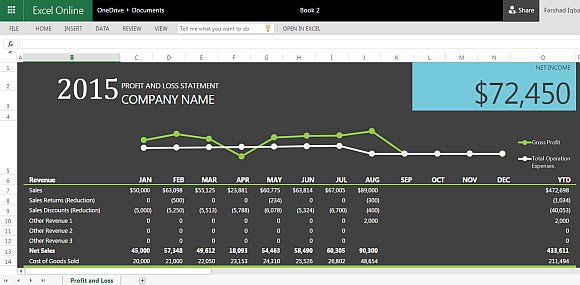 Chart to Display Trends
The template has a chart which automatically updates as you enter data to the spreadsheet.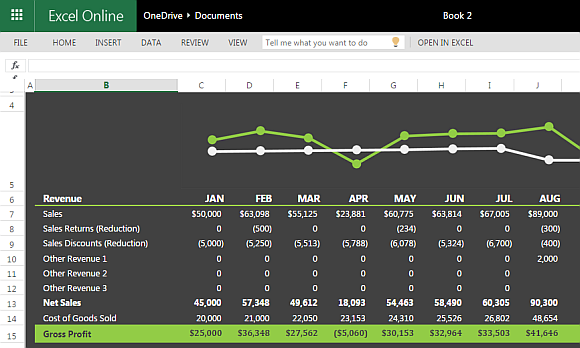 Space for Adding Detailed information
The sample statement is so complete that you will get a lot of categories to populate beforehand. Of course, you can also add your own categories and rename the existing ones, along with necessary data associated with them.
The template has been designed in such a way that you can even use it to add details on a periodic basis to maintain your monthly records. This can help you make a profit and loss statement throughout the year by regularly updating the sheet, which can be more efficient than making one at the end of the year, especially if you are a small business owner such as a sole proprietor.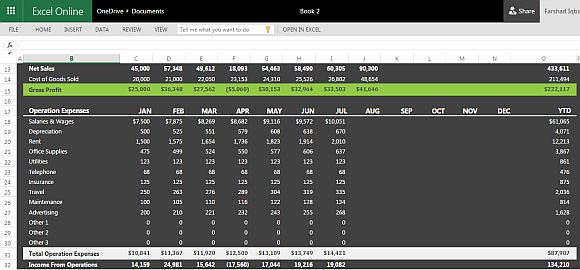 You can edit, save and share this template by logging in with your Microsoft account to Excel Online or download it offline once you are logged in.