Family Emergency Plan template for Excel Online provides a simple emergency plan mechanism for family members to adhere to in case of any eventuality.
Create a Printable Emergency Plan
This free Excel template can be used to enter relevant information regarding an emergency meeting plan, medical history and contact mechanism in case of an emergency, be it a medical emergency, natural disaster or any other unfortunate event. You can also print this plan or share it online by emailing it or via direct link to family members, using OneDrive. This means that they can access the plan on the go using an Internet connection or keep a printed copy of it handy.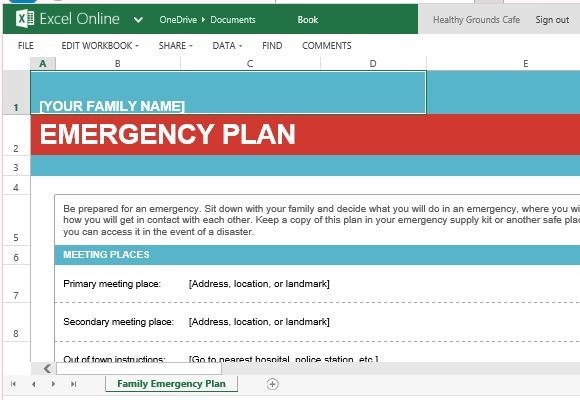 Add Meeting Place and Medical History of Family Members
This Excel Online Template provides sections for adding a primary meeting place, secondary meeting place and instructions for out of town instructions, followed by sections for adding names, social security number, date of birth and medical history for each family member. You can customize these columns and rows and even change the titles to suit your emergency plan.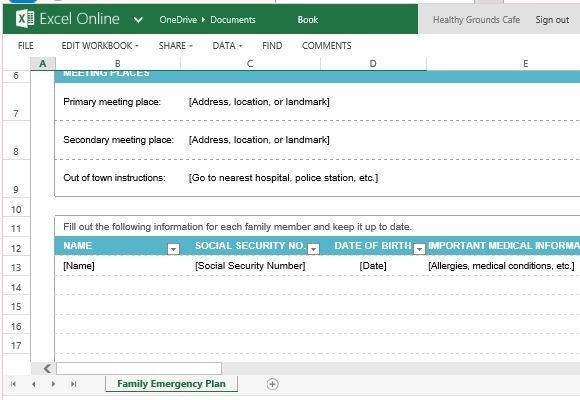 By making a basic emergency plan you can be assured that your family members are able to gather in case of a catastrophe or know about the likely meeting place even if all contact has been loss in the wake of an unfortunate event. Furthermore, medical history can be of immense importance in health related emergencies, such as the need to know the Blood Group, allergies and diseases (e.g. high blood pressure) that a family member might suffer from.