Sometimes when we have spent hours fixing a problem, it only tends to be the tip of the iceberg! I'm sure you can all relate to this term in some way. Be it from a past experience at the workplace or a series of problems faced throughout the course of a day. Free Tip of the Iceberg Template for PowerPoint gives editable iceberg illustrations.
Editable Tip of the Iceberg Illustrations
The tip of the iceberg illustrations in this template are completely editable. Not only can you move the iceberg but also the water and sky background. This can help you customize the illustrations using drag and drop. Alternatively, you can also recolor and resize specific parts of the iceberg diagram. This presentation template is perfect for demonstrating a series of problems with the visual aid of diagrams which perfectly illustrate the tip of the iceberg metaphor.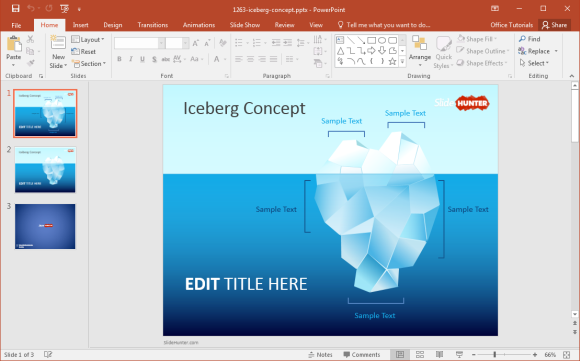 Change Water Level and Sky Background
There are two slides in this template, one with text-boxes for explaining the diagram from your own perspective and the other without the placeholders. You can also customize the given slides further by adding your own clipart, diagrams and charts next to the iceberg image. You can also drag to change the water level and move the blue sky background.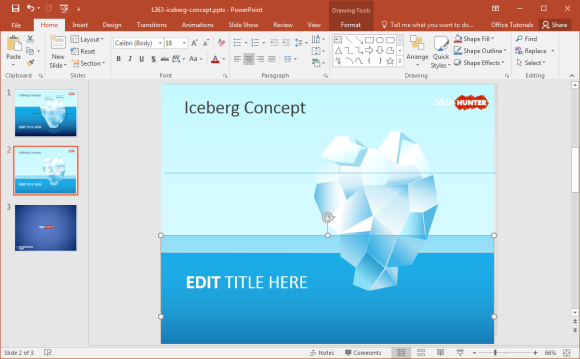 To make more space, you can always reduce the size of the iceberg. The iceberg illustration is made up of smaller, crystal shaped slide objects. You might also find it interesting to remove or move some of these objects to give the look for a disintegrating iceberg.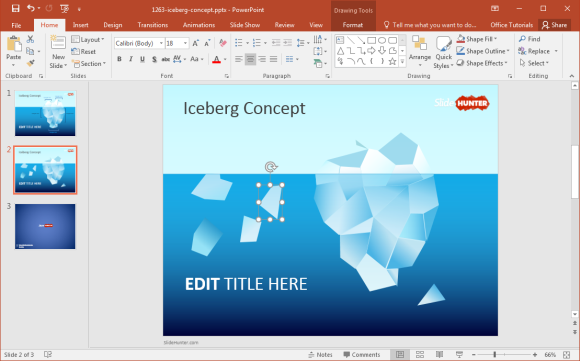 To download this template, head over to slidehunter.com. SlideHunter is home to more than 9000 free presentation templates for PowerPoint. You can also search for illustrations and templates using the search bar on top or browse through the categories listed on the top menu (Free PowerPoint Templates, Diagrams, 3D, Charts & Shapes).
Go to Download Free Tip Of The Iceberg Template for PowerPoint