If you want to tip the balance of scales in your favour, you might need some money or maybe, bags of it. Whether you're engaged in marketing a product, need to stay ahead of the competition at school or wish to pursue higher education; all these seemingly unrelated things have one thing in common, the need to spend a lot of money. Spending some money can help you achieve meaningful goals a lot more easily. For example, you can't really gain market share without meaningful advertisement. Similarly, investing in say, a better laptop or smart device might help you in making better school projects, and as we all know, higher education costs can break the bank. Free Money Bags PowerPoint Template perfectly depicts this conundrum.
Editable Money Bag Illustrations
Although this is a free PowerPoint template, however, you get a lot of features of premium presentation templates, such as the utility to edit each part of the available diagrams. The title slide shows three orange money bags titling the scale to the left, with one bag on the right.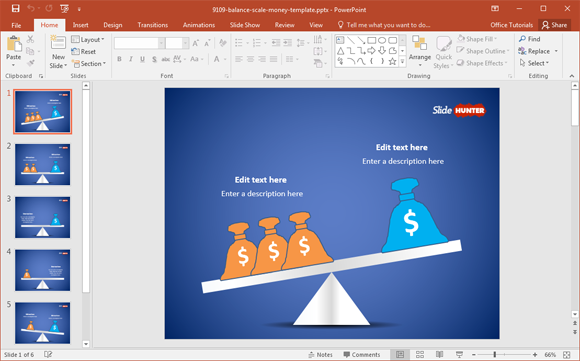 Resize and Recolor Money Bags
The second slide depicts a balanced scale, with one blue bag on the right and two small orange ones on the left. You can rearrange these bags anytime, and even recolor and resize the bags. The remaining three slides depict a balanced and tipped scale with different sized money bags added to the mix.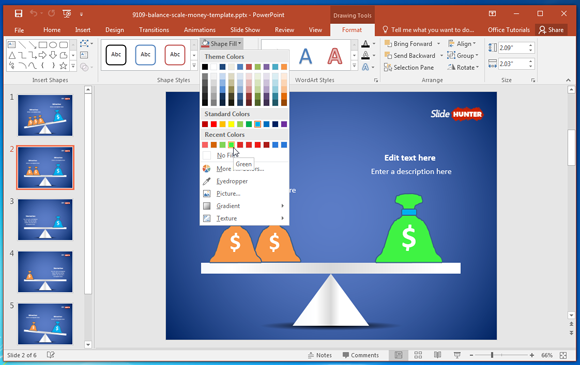 Rotate to Adjust The scales
You can also rotate or drag to adjust the scale to tip it either way or keep it balanced in the middle. While there are text-boxes within slides, you can also add additional ones to explain your ideas, as well as copy the clipart objects to create custom illustrations.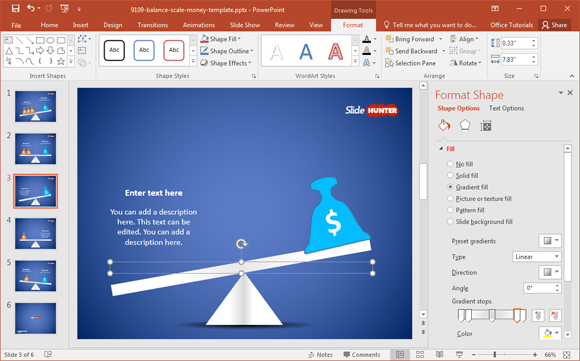 There are 5 sample illustrations in this template, with scope for fully customizing each slide.