Every few years comes a new Star Wars movie and the force awakens! Star Wars has one of the most die-hard fan following in the history of filmmaking and as the force gets stronger, you might want to express your love for this outer space franchise in your presentations.
May the Force be with You!
The title slide depicts the classic Star Wars logo, with a background depicting the Death Star in ruins, indicating perhaps that the Empire has been defeated. The middle of the title slide gives placeholders for adding your title to introduce your presentation topic, followed by a placeholder for adding a subtitle or the presenter's name.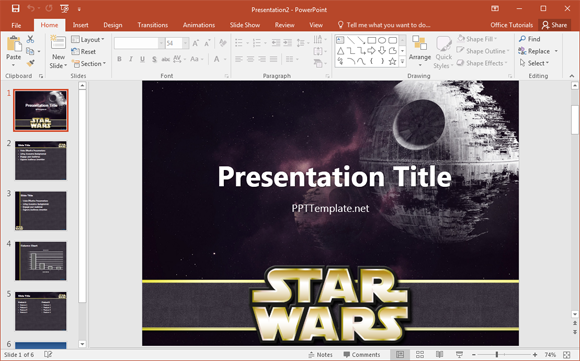 The second slide provides the Star Wars logo on top, with a plain grey design. The remaining content slides have a simple grey, black and golden color tone, with enough space to elaborate upon your topic in detail. There are slides for making bulleted lists, charts, and comparisons. You can obviously modify the default layouts according to need.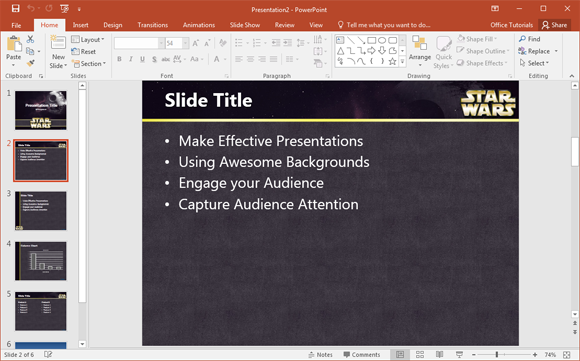 Duplicate Death Star Background Slide
Needless to say, if you're really interested in retaining the Death Star background, you can duplicate the title slide. However, to ensure legibility, it might be a good idea to place a solid colored shape behind the text. You can also make your text larger amidst the black, sky background to make it more legible, should you choose to opt for the Death Star background for all or most of your presentation slides.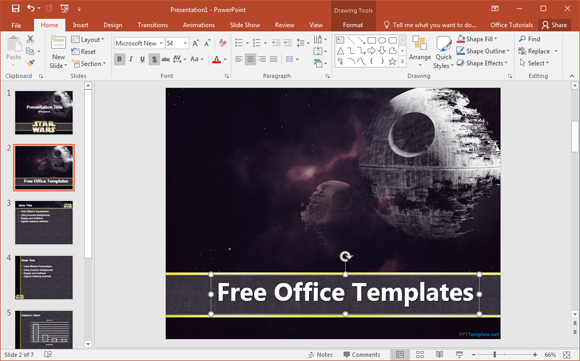 This free PowerPoint template is great for children's presentations and school lectures to keep those young ones excited. You might also want to use this template for presentations during the Halloween season or when you may be looking to make your slides a bit more fun for your audience.