Making professional resume for the first time or when you need to make one again from scratch can be quite time consuming, unless you have a simple template to help you quickly organize your data for making a precise and meaningful resume. The Free Resume Templates for Word given below can help you quickly create a professional looking cover letter and resume by simply filling out the sample sections.
 
Resume Template for Word (Functional Design)
This is an easy to use resume template for Word with the most basic layout that you can get for making a resume. You can also use this template with the Resume Cover Letter Template given below, to match your resume with your cover letter. This Word Template has sections for adding your contact details, professional history, education, experience and references.
You can edit this and other free Office templates mentioned in the list below using a Microsoft account via Word Online or login to download the template for offline editing.
Go to Resume Template for Word

Resume Cover Letter Template for Word
This is a simple template with all basic sections for making a decent looking resume cover letter. The template provides sections for adding your name, job title, summary, contact details, credentials, experience, etc.
Go to Resume Cover Letter Template for Word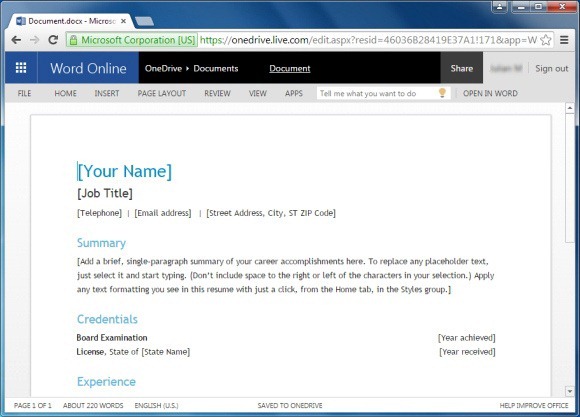 CV Template for Word
If you would like to make a Curriculum Vitae using a simple template, then this CV Template for Word is just what you need. It comes with a standard CV format where you can start off with your name, contact details, followed by your experience, education, achievements, etc. This template is ideal for making short resumes, such as a one or two page CV.
Go to CV Template for Word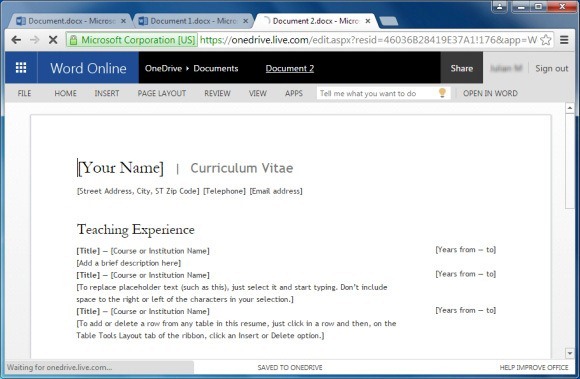 You can find more Resume and Cover Letter templates at the Microsoft Templates Gallery via the link given below.