Feathers have been used as quill pens, can represent ancient modes of communication through birds, as well as represent topics symbolically such as the environment, nature, wild life, etc. Below is a collection of Free Feather PowerPoint Templates with abstract and elegant slide designs.
Widescreen Feathered PowerPoint Template
Feathered is the name of a feather themed template for PowerPoint Online which features an abstract feather background in the form of a single slide. You can replicate this slide and make use of all major PowerPoint editing features from an Internet browser via PowerPoint Online or download this template for offline use.
Additionally, you can also insert YouTube videos, add transitions and animations using both the online and offline versions of PowerPoint. To find out more about PowerPoint Online, see our post related to Office Online.
Go to Widescreen Feathered PowerPoint Template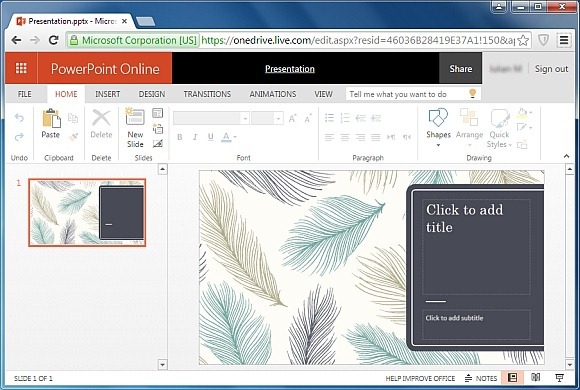 White Feather PowerPoint Template
The White Feather PowerPoint Template provides a background with a single feather and light color tones. The background is a mix of light grey, blue and white color, which can help you highlight your presentation content with ease.
While the default text is black, you can change that to a color which you might deem appropriate to go with the light color tones, such as one which might suit your company logo or presentation topic, however, it is advised not to use light colors for your text when using this template.
Go to Download White Feather PowerPoint Template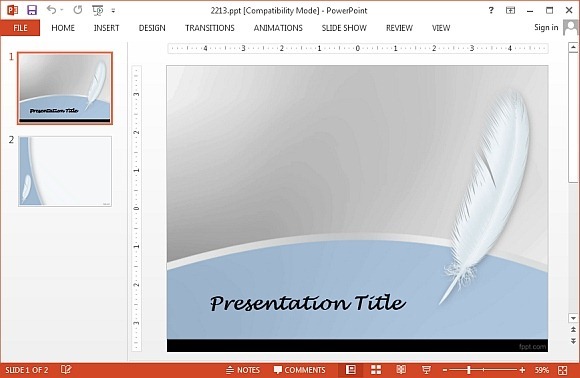 Sepia Paper Scroller PowerPoint
This sepia background for PowerPoint shows a quill pen with a scroll and can be used for any type of presentation, including academic topics related to history, arts, literature, etc. The background is quite suitable for presentations and can also be used as a standalone opening slide to start your presentation with a touch of elegance.
Go to Download Sepia Paper Scroller PowerPoint Template