Companies require keeping a detailed record of their financial transactions, especially their earnings. A quarterly earnings report is essential for reviewing quarterly performance to identify success and failures and to find remedies to falling revenue (if necessary). If you need to make a quarterly earnings report in PowerPoint, we have a free template that can help you get the job done.
Free Template with Step by Step Report Slides
The Free Quarterly Earnings Report Template for PowerPoint provides ten sample slides, including a title slide that is followed by slides for making an Earnings Reconciliation section, Balance Sheet summary, quarterly summary, charts for depicting trends and more.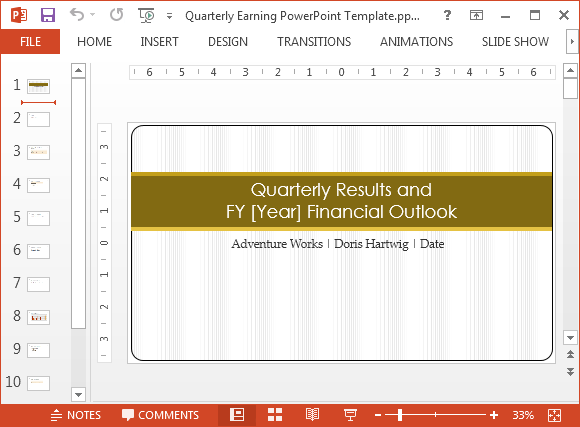 You can reveal your agenda for the future, trends for upcoming and current ventures, as well as provide a detailed financial overview for your organization. The slides are sequenced in such a way that they serve as a guide about what to add next to complete the quarterly earnings report.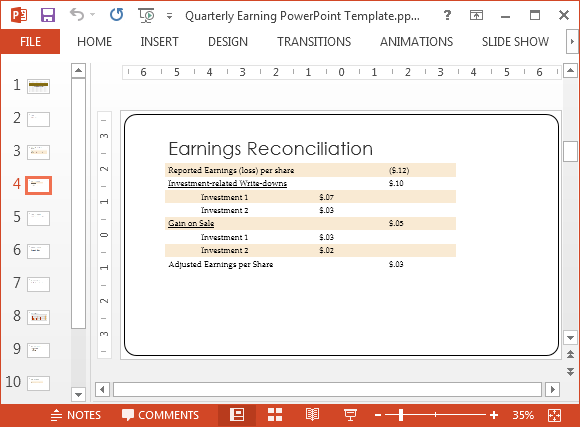 At the end of the template is a section for adding the summary so that your audience can understand the gains and losses discussed in the presentation.
One thing that you might find a bit troublesome about the template is the dull layout. You can however, change the layout via the Design tab and also perform your own amendments to the slide font and background.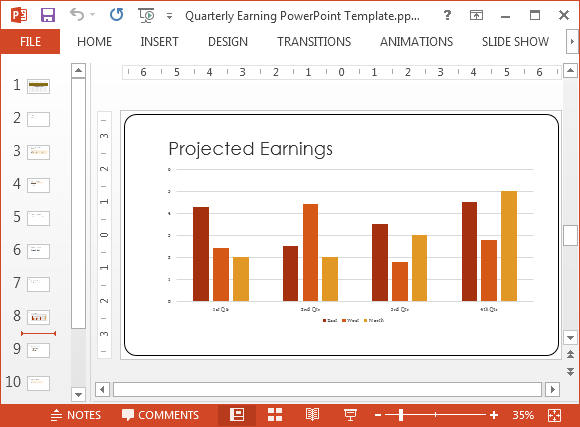 This is a PPTX template, which means you can use it with all the latest versions of PowerPoint released in the past few years, such as PowerPoint 2007, PowerPoint 2010, PowerPoint 2013, as well as Mac variants like PowerPoint 2008, 2011 and PowerPoint 2016.
Go to Download Free Quarterly Earnings Report Template for PowerPoint