Mountains are extraordinary wonders of nature that we often take for granted, without realizing the beauty that they present. The Free Mountains PowerPoint Template brings a beautiful illustration of mountains amidst blue skies.
Beautiful Mountains Illustration
The PowerPoint template is a clever combination of a mountain illustration with a white and sky blue background, to help ensure legibility for added text. The template has two slides, including a title and content slide. You can also choose various layouts from the Layouts menu to further customize the slide by adding new slides and layouts according to need.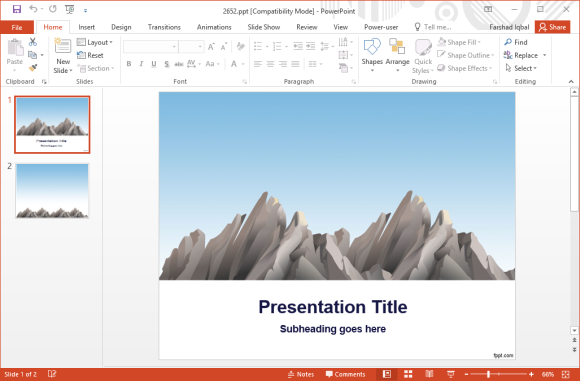 The content slide provides a layout with the mountains located at the bottom, leaving ample space for presenters to add their own content. You can add any kind of content to the available space, be it text, or charts, infographics, and diagrams. The graphics are quite subtle and easy on the eyes. The light colors, which can help leave a soothing effect on your audience. This is because the color tones of a slide deck can affect the mood of the audience, depending upon how the overlay content is oriented with the slide backgrounds.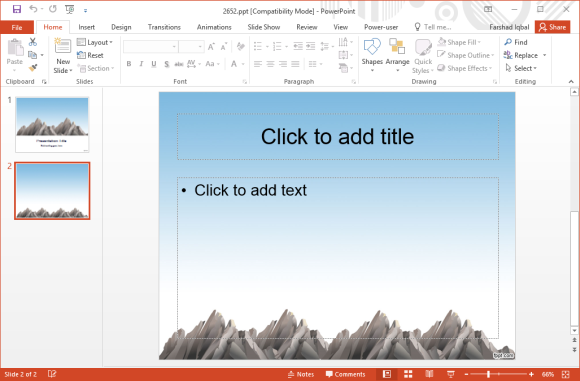 With this free template you can create all kinds of nature themed presentations by adding your own content to the mountain themed slides. You can also use this template to list down your adventures of hiking trips, vacations and the like. Such a presentation for instance, might be a requirement for a school project, where you might be asked to talk about your summer vacations.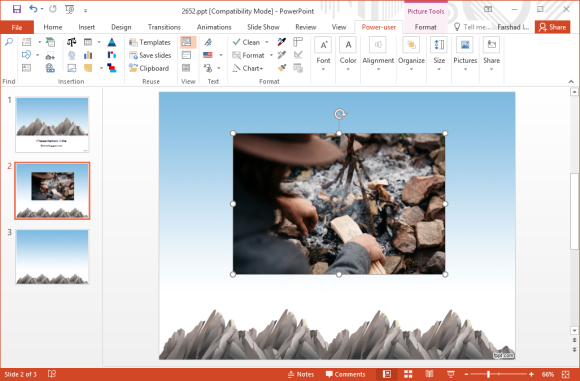 The Free Mountains PowerPoint Template is available as a PPT file, which means it is compatible with both old and new versions of PowerPoint.