Business presentations require a very precise beginning and end to give them a professional look. Unfortunately, many presenters end up making presentations which appear a bit out of place and lack the sequence which might make it easier for their audience to grasp the slides. The Free Business Strategy Template for PowerPoint is a simple slide deck meant to help create professional business strategy presentations.
 
Suitable for Professional Presenters
The presentation template has  7 PowerPoint slides which act as a guide for presenting your business strategy. You can of course, add or remove slides according to need. The available slides include an opening slide, followed by slides for a vision statement, objectives, a review for the current scenario related to your topic, historical information, available options and recommendations.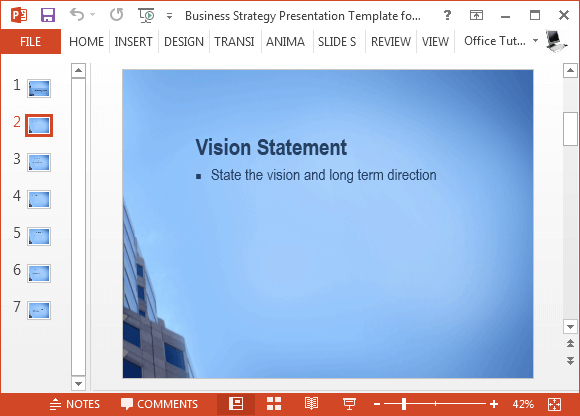 Easy on the Eyes
With an image of a building amidst the beautiful blue sky, the template gives a visually pleasing outlook, with legible blue text in Arial font. The blue sky is abundantly visible in the background design, which makes the overlay text easier to read. You can also add charts, diagrams, clipart and videos to this simple background without worrying about distracting the audience. This is because the background has a light color tone which does not overpower the overlay content.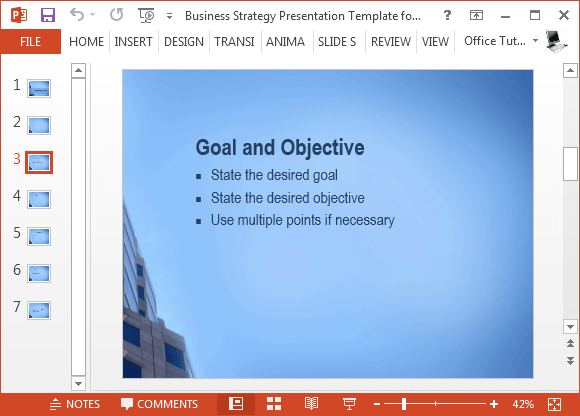 The best thing about this template is that it does not appear gloomy and hence, it can help you give a positive visual vibe to your audience. This is something that many presenters rarely understand, i.e. the PowerPoint background plays a major role in setting the audience's mood and many a times it is the second most important thing in a presentation. This is of course, a part from how the rest of the content is placed over a standard background.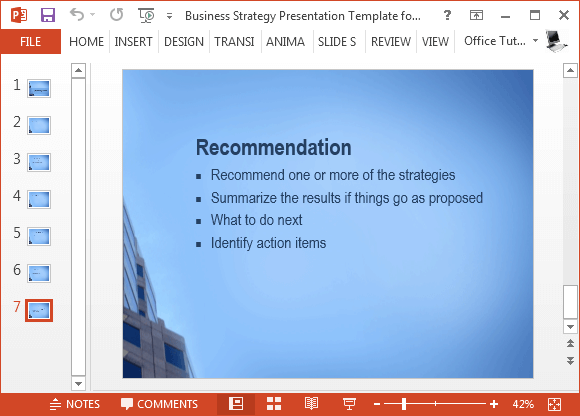 While there is no visible sun in the template to mark daytime as a theme for the default slides, the clear blue skies present a background which seems to give a visually relaxing outlook, which can be a good thing for presenters looking to present business strategies before an audience.