Making use of multimedia content in a presentation can be difficult as adjusting videos and sound in slides with a common theme can require a lot of work. Not to mention making your added content look good can be quite a challenge. The Free Animated Multimedia PowerPoint Template below can help create presentations with multimedia content, using placeholders that allow create a collection of various types of content.
Free Animated PowerPoint Template
With 13 unique slides this PowerPoint Template itself is an example of how you can use animations, and multimedia choreography for your presentations. The title slide reveals a picture collage with a water animation in the backdrop. You can add your own images by replacing the sample ones to start off your presentation using this slide.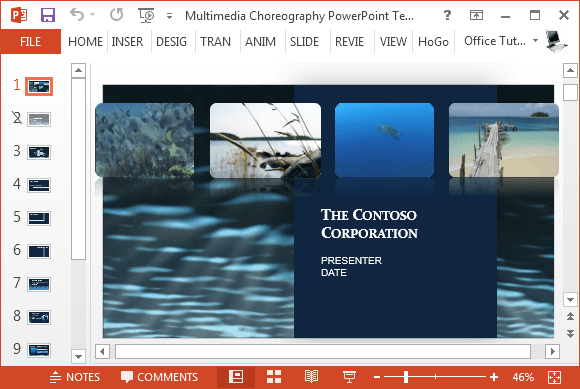 Widescreen Template with Business Layouts
This widescreen PowerPoint Template gives layouts with sample diagrams, charts and other types of layouts that you can use for making a comprehensive presentation. You can also add new slides and customize existing ones. The sample slides are business themed, however, you can replace the sample images to create a presentation about any specific topic.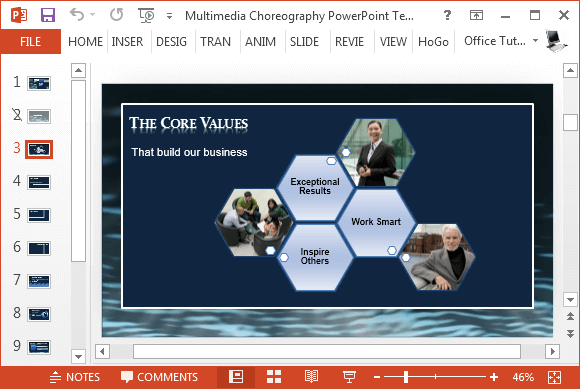 The ripple water effect in the background is consistent throughout the template with a blue central layout. Your added content will not affect this effect, however, you should preview your slides in Slide Show mode to make sure that the animations and transitions are running smoothly. Moreover, the template might seem a bit heavy and some slides might take longer to load. You can also edit the animation via the Animations Pane from the Animations tab.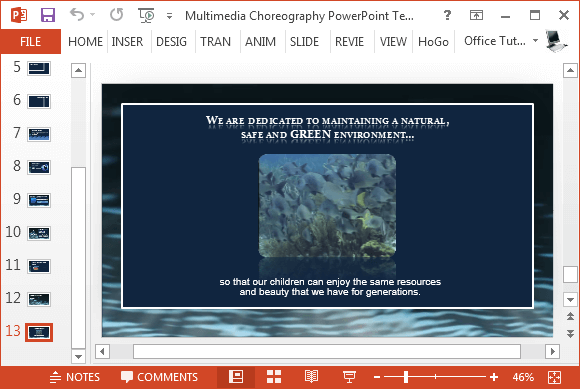 Available as a PPTX file, this widescreen presentation template is available for download via direct link.