There are a plethora of Android apps which support MS Office files. However, many Office apps on the Play Store come with less than adequate features and it can be hard to pick an app which might deliver the goods. To make your job easy we have listed 5 Best Office for Android Apps that you can choose from to manage your Office files on an Android device.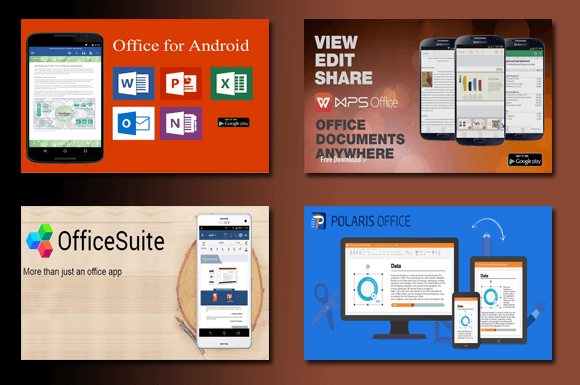 1. OfficeSuite
OfficeSuite is one of those Office apps for Android which has been around for as long as one can remember. It comes with the usual Office tools such as a word processor, presentation maker and a spreadsheet creator. OfficeSuite has a desktop like UI, with the utility to zoom in and out of documents for a more robust viewing experience.
With OfficeSuite you can edit Word, PowerPoint and Excel files, with extended support for archives, plain, rich text and OpenOffice files. Furthermore, it comes with a PDF reader which can be used to annotate and digitally sign PDF files.
OfficeSuite also supports fetching files from famous cloud services like Google Drive, OneDrive, Amazon Cloud Drive, Dropbox, Box, etc. While OfficeSuite can be downloaded for free, the good stuff requires a $20 upgrade.
Go to OfficeSuite for Android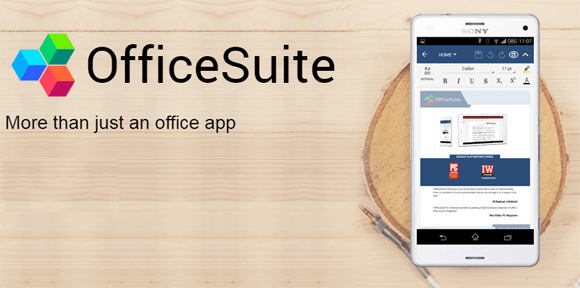 2. WP Office+PDF
Previously known as KingSoft Office, this is one of the best Office apps for Android. It not only offers the usual support for Excel, Word, PowerPoint and PDF files but has a brilliant mobile view which makes reading documents easy. You can also fetch files from cloud services, share and print them right from your Android device. Unlike OfficeSuite, WP Office is an app which lives up to its free tag and doesn't require an upgrade to a premium version to deliver the goods.
Go to WP Office+PDF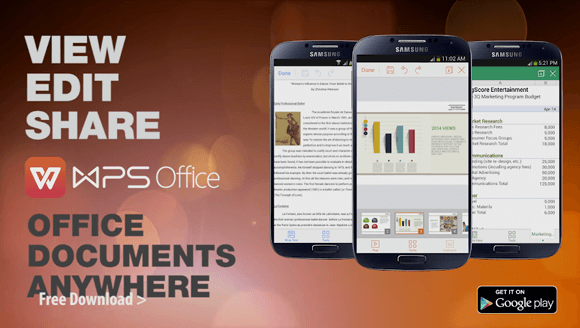 3. Microsoft Office Mobile for Android
One of the youngest Office for Android suites is surprisingly from Microsoft itself. unfortunately, the 'free' Microsoft Office for Android app is only useful if you have an Office 365 Subscription. You can use Microsoft Office Mobile for Android with a free Microsoft account to create, edit and save documents for personal use. However, for business use, you will require an Office 365 subscription.
What makes this app worth using is support for charts, animations, shapes and SmartArt Graphics. If you use MS Office regularly and need an Android app which can allow you to manage your Office files without messing up the formatting, with support for usual Office features (e.g. animations and SmartArt), then this app is worth using.
Go to Microsoft Office Mobile for Android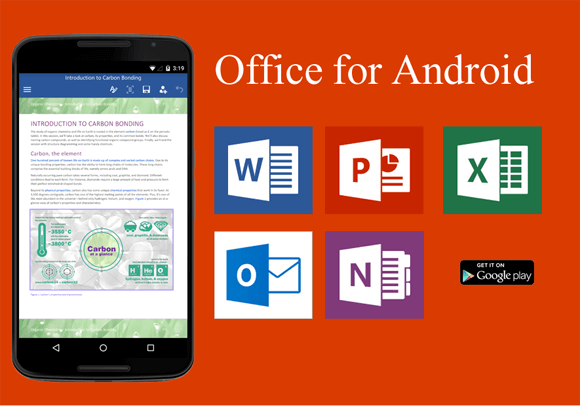 4. Polaris Office
Polaris Office is one Android app which needs no introduction. The Polaris Office Viewer pretty much comes installed with Android devices nowadays, especially Samsung smartphones. Polaris Office supports Office files, famous cloud services for fetching files, the ability to share and print files from your Android device. One of the highlights of Polaris Office can be deemed its robust presentation maker.
While Polaris Office isn't the best Office app for Android, it delivers what it promises and is a good option for creating, viewing and editing Office files.
Go to Polaris Office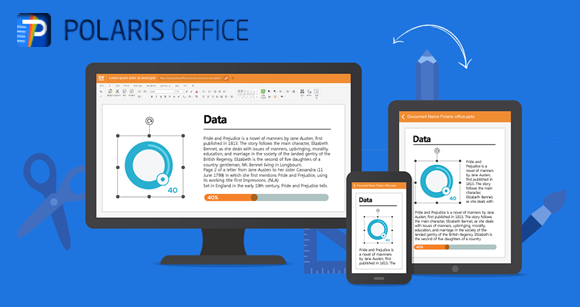 5. Smart Office 2
Smart Office 2 is another good option for users looking for apps that support Office for Android. With Smart Office 2 you can create, edit, view and share Office and PDF files, export files to PDF, print them from your Android device, with compatibility for cloud services and support for additional formats like JPEG, PNG, GIF, BMP, and vector formats like WMF and EMF.
Go to Smart Office 2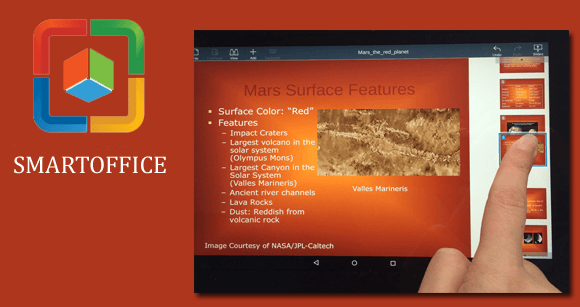 We have tried to focus on robust apps with rich features and cohesive, functional designs. This is why the list does not included apps from Google Drive, as creating Office documents using Google Sheets or editing a presentation on the fly using Google Slides is arguably not the most convenient thing do to. It is worth, mentioning here that there are also a number of other Office Suites like Zoho Docs and Docs to Go which can be suitable options for Android users. If you think we missed a good Office app for Android, feel free to recommend it to our readers by leaving a comment below.