When buying things on the Internet one of the places people refer to is eBay. It is one of the most famous portals, providing a robust consumer-to-consumer and business-to-business sales platform to end users. If you're making a presentation on e-commerce, Internet marketing, and sales, the Free Ebay Template for PowerPoint can be a good option.
Make Sales & E-Commerce Presentations
The eBay Template for PowerPoint provides a title slide with the famous eBay logo and images of electronic devices. The title slide provides a perfect view of what eBay truly is, i.e. a platform for buying products. You can edit this slide to introduce your topic, followed by content slides.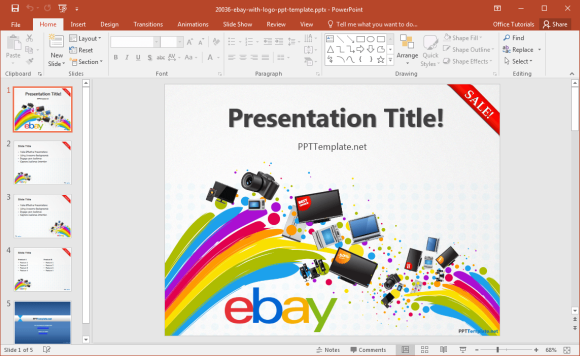 The template has some simple presentation layouts which can be easily edited according to need. You can also choose from various layouts via the Layouts menu from the Home tab to change the default look of the sample slides such as; content, two content, comparison, title and picture with caption slides.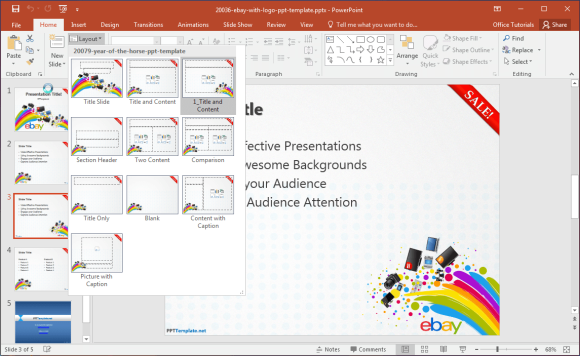 Internet & Sales Themed eBay Template
Other than e-commerce, you can also use this template for making presentations related to SEO, SMM, SEM or other topics related to Internet and sales. Furthermore, you can also create presentations for your school or make use of this template for informing users about the benefits of using portals like eBay for reaching consumers without spending an extravagant amount of money when formulating sales strategies.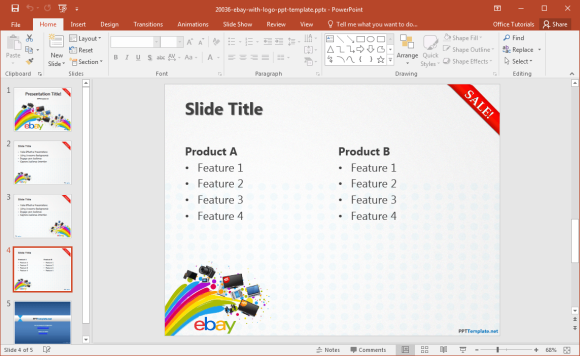 The eBay Template for PowerPoint is a PPTX template, compatible with PowerPoint 2016, and earlier versions, including Mac editions for PowerPoint.