The term development is used in a variety of ways. It can imply construction, economic development, infrastructure development, lean manufacturing and is even used in the national or global socio-economic context. The latter is based on the idea that development consists of not just a rise in material gains for a populace but also on the degree of freedom and absence of discrimination. Free Development PowerPoint Template is a generic development themed template that can be used in any development oriented context.
Development Tag Cloud
The title slide gives a tag cloud with development related words. The background depicts cogs, which are symbolic for development and progress. The tag cloud consists of words like trend, growth, design, change, history, evolution, process, construction, movement, formation, deployment, etc. All these words surround the word 'development' in the title slide.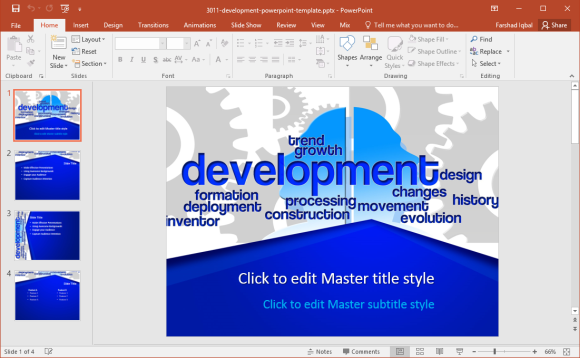 The remaining three slides have a generic background which is the same as the title slide with a blue overlay for adding your content, and a background with illustrations of cogs.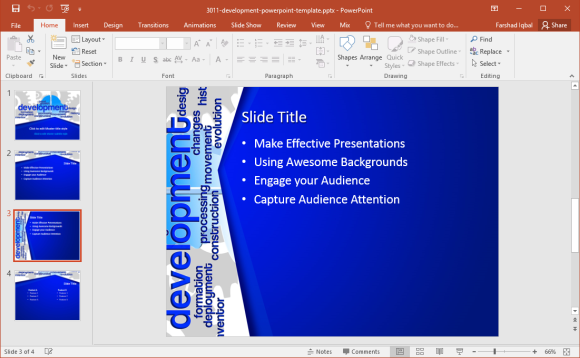 Suitable for Development Related Presentations
You can add charts, tables, clipart, diagrams and other content to design these generic slides to make a presentation around any development or production themed presentation topic. You can even use this template for presentations about topics such as the environment, conservation, global warming, climate change, and the like. Furthermore, you can even use this template for presentations about manufacturing, production, R&D, etc.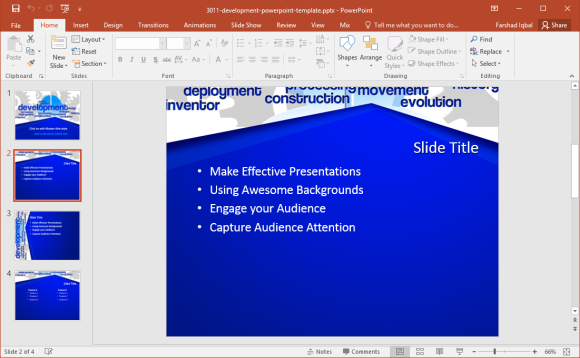 This free PowerPoint template can be downloaded from FPPT, which provides more than 10,000 free templates for PowerPoint. You can also search the FPPT archive to look for similar templates.