The beauty of PowerPoint presentation templates are that while are standard and can be used for all types of presentations, there are still those that are designed with a specific purpose, theme or audience in mind. One fine example is the World Map Template for PowerPoint. Although it is pretty standard enough for many purposes, it is professionally designed to show a world map that can help you in geography, social studies, or even history.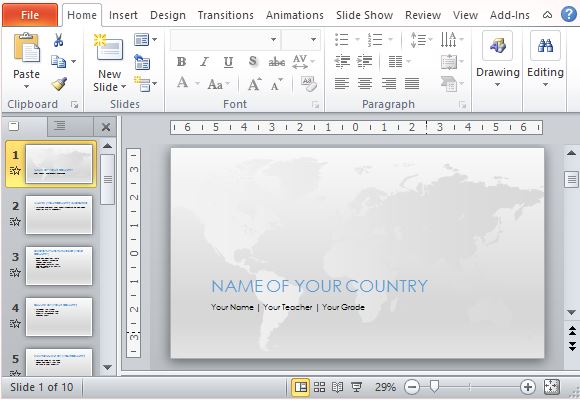 This World Map Template for PowerPoint is an educational template that students and teachers can use to report on their assigned countries. This template contains 10 slides that allow you to present various information about a particular country such as location, geographic features, climate and weather, history, customs and traditions, type of government, economy and tourism. The template is in widescreen format for PowerPoint 2013 and earlier versions.
This free Office template starts with a title page that shows a world map. The succeeding template comprehensively discusses every aspect of the country and what makes it unique from other countries in the world. The World Map Template also allows you to present your data in various creative ways. You can even insert photos to show to your class.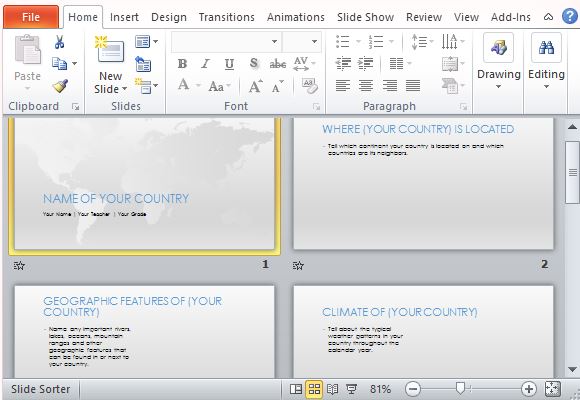 The template also helps you discuss the colorful history of the country you are reporting about by presenting it in a timeline. This gives you a way to show how events affect the country through time.
You can also customize this presentation to make it your own. If you are a teacher, you can have your students download the presentation template so that their report are uniform and complete. This also makes it easier for you and for the students to compare how one country may be different from another in terms of traditions, economy, government, and the history that affected its people.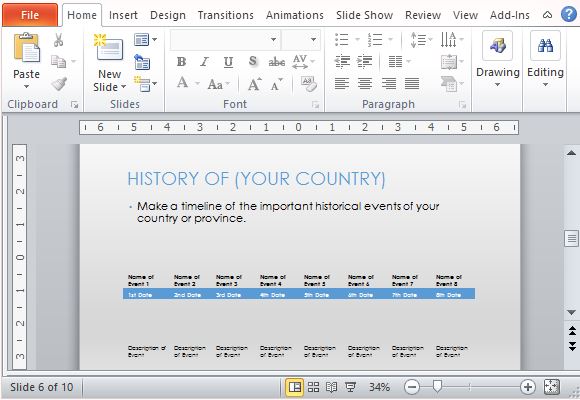 This template can greatly help educators and instructors as part of social or geography projects, world history, world country reports. Other than these, you can also use this template for science projects, world literature, art, tourism, crowdfunding, business development, and many others.