If you have been using third-party applications to convert PDF documents to Word format and have Office 2013 installed on your computer, then you need not to rely on any third-party tools anymore. PDF Reflow is a Word 2013 feature which automatically converts PDF to Word format and also retains the original content without losing or distorting text, tables, charts and images from the original PDF file.

How to Use PDF Reflow Feature in Word 2013
You can convert a PDF file to Word format by simply opening it in Word 2013. You can either right-click the PDF file and select Open With –> Word 2013.
Alternatively, you can launch Word 2013 and go to File –> Open and select the PDF file you wish to open.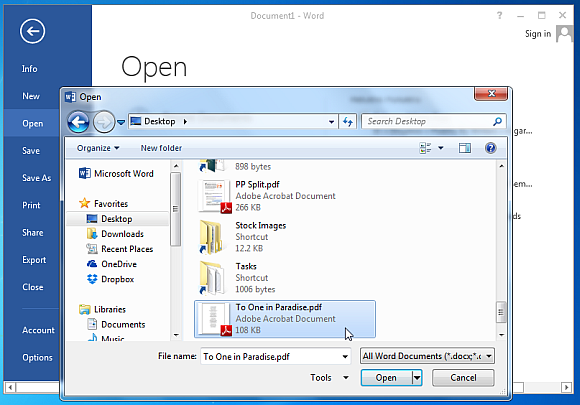 Automatic Document Conversion for PDF files in Word 2013
A pop-up will be displayed, alerting you that the document will now be converted, click OK. The conversion process will in no way alter the original document but rather create a new editable copy of the PDF file in Word format. Depending upon the size of the document, the conversion process might take a few minutes. While the document is being converted, you can see the progress bar in Word 2013 to get an idea regarding how long might the conversion take.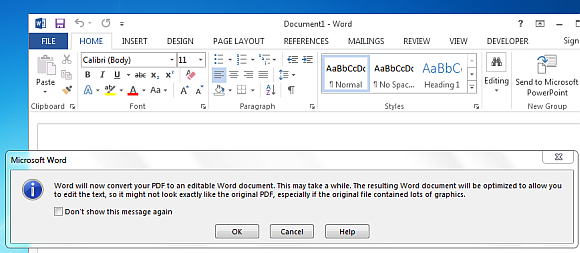 Edit Converted PDF Files without Loss of Quality
The conversion of PDF files has been made so seamless in Word 2013 that it does not result in loss of any original data or any type of distortion in the original content, hence, making it easy for you to convert PDF files in editable format.
You can also make use of this feature by converting your PowerPoint presentations to PDF format and then importing them to Word for editing. On the contrary, if you would like to learn how to rather send Word document to PowerPoint, see our post about converting Word to PowerPoint.