Contracts are important in any transaction or business-related activity. For example, employment contract creates an expressed bond between an employer and employee. Contracts define the parameters of the employment scenario so that duties, responsibilities, policies, and compensation are created and set.
Contracts also contain how long these are applicable. Some contracts can be renewed over a regular period of time, while others are created only for a specific type of work. Some contracts are also permanent unless terminated. Simply put, there are various contracts for every business need, task or employment duration.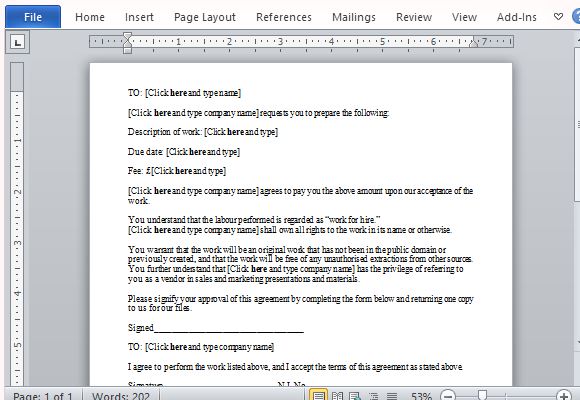 The Work for Hire Contract Template for Microsoft Word is a standard work for hire contract that you can use for your business. This contract is available for Microsoft Word 2003 or later. This work for hire contract is a contract for a type of work initiated by an employee. It can also refer to contracts created on behalf of a client where all parties agree in writing the stipulations of the document.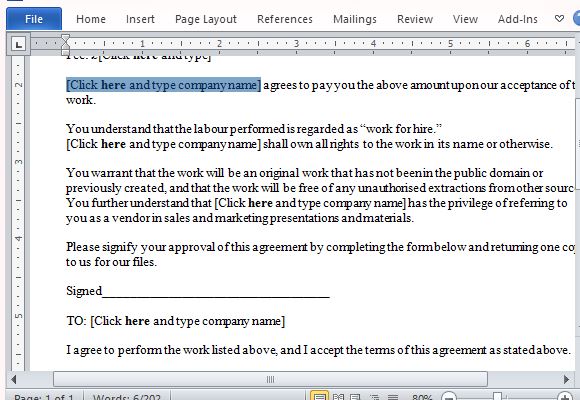 As with any other contract that stand as legally binding documents, this Work for Hire Contract Template is contains relevant employment information logically organized for the employee and employer. It contains information on the employee hired for the job, the company or employer, word description, due date, and fee. It also has a waiver saying that the company or employer owns the right to the work produced by the hired employee.
This free template can be used for many employment scenarios. This contract can be used for marketing, creative, entrepreneurial and other outsourcing purposes.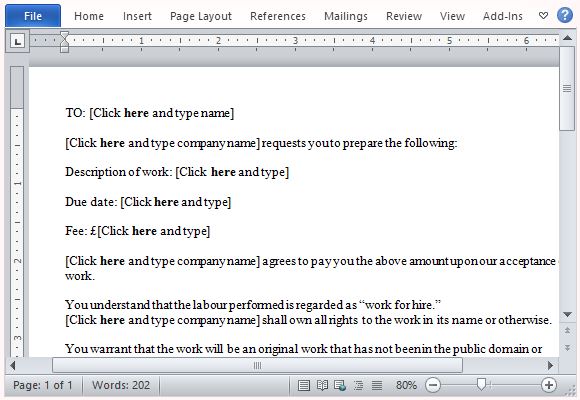 This Word template is professionally designed and easy to use even for beginners. All you have to do is fill out the information in the designated areas in the document. Just click on the phrases within square brackets to complete the contract. Before you know it, you have a well-written, detailed work for hire contract.
Update:
This work for hire template has been removed by Microsoft. You can use the below link to create a work for hire contract.
Go to Work for Hire Agreement Sample