If you want a general-purpose template that you can use for business, academic, organizational or personal presentations, then you have come to the right place. Below is a selection of expertly designed Wood Design PowerPoint Templates that you can use for your presentation needs.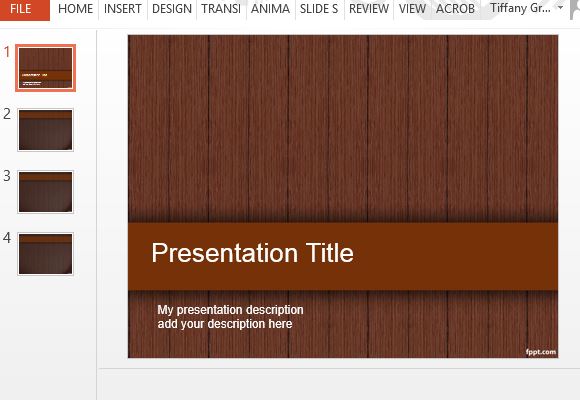 Planking Presentations
This Wood Material PowerPoint Template is a professionally designed template that has a clean and symmetric wood effect in the background. Its dark grain is reminiscent of hardwood planks, making this presentation template perfect for topics on design, furniture, construction, and many others.
This presentation template comes with a set of slides that have the same design and are already set with various layout options so you can duplicate and rearrange the slides according to the content you want to present.
To maximize readability, this PowerPoint Template is in widescreen format with highly contrasting slides of white font over a dark brown background.
Go to Wood Material PowerPoint Template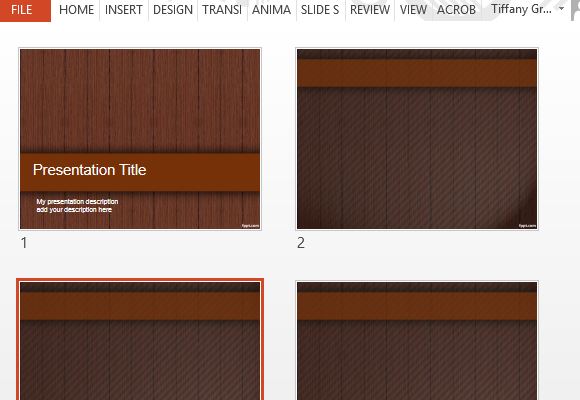 Take Back the Wild West
This next wood-themed PowerPoint presentation has an old-world charm that would remind you and your audience about the Wild West. With its wood stain design and red letter stamp, you can easily tell that this template is perfect for historical or period-themed templates.
The Wood Type Design PowerPoint Template is professionally designed and has a wide range of customizable layout formats to allow you to effectively convey your message and present your content clearly and concisely. Simply follow the placeholder texts to add your titles, subtitles, text, and images. You can add new slides, duplicate them, or rearrange them to complete your presentation.
Go to Wood Type Design PowerPoint Template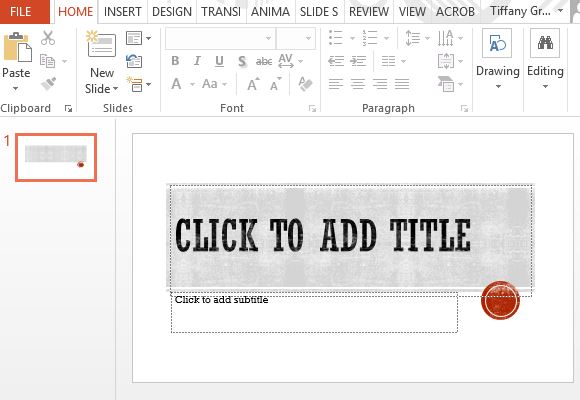 Go Against the Grain
This next template has a natural, realistic, and dark woodgrain design that is perfect for all types of presentations. It can be used for construction, textile, woodwork, furniture, design, art, and even cooking topics.
This Woodgrain Design PowerPoint Template is elegant, timeless, and you can easily switch from being formal and corporate to fun and creative by changing the font and other design elements of the template. Just make sure to make the elements light-colored to stand out against the dark woodgrain background.
To complete your own presentation, simply add the slides that you need and duplicate them or rearrange them throughout your presentation. Also, the green accent shapes allow you to more clearly write text and break the monotony of the dark grain.
Go to Woodgrain Design PowerPoint Template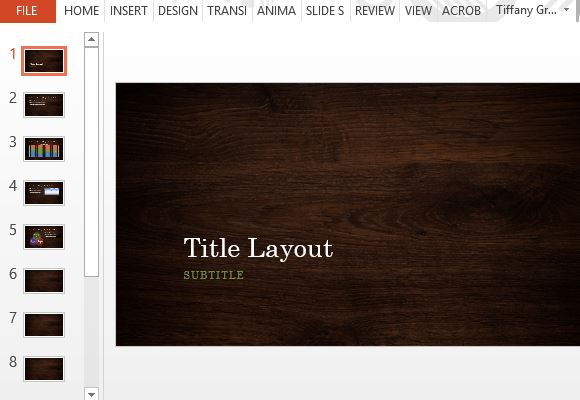 Hardwood Floors on Your Presentations
If the look of hardwood floors on a PowerPoint presentation seems uncommon to you, take a look at this next template and you will see why it may just be the perfect one for your next presentation.
This template features planks of interlocked hardwood that create a pattern such as found in floorings. This gives your presentation a textured look that is natural, warm, and homey. This Hardwood Floor PowerPoint Template is perfect for presentations about homes, real estate, furniture, woodwork, interior design, and many more.
To break the wood pattern, there is a golden shape to accent each slide and bring out your titles and subtitles. There are also different layout options to choose from so you can include tables, charts, diagrams, and flowcharts, as well as pictures and videos.
Go to Download Hardwood Floor PowerPoint Template