Windows 8 made Windows fans and technology buffs excited because of the new user interface. It is called the Metro or Modern interface, where the updated operating system is designed to better suit the gadgets that we have today, like touch screens and tablets.
So if you want to make your presentations look more updated and sleek like the Metro UI, then you can use this template for your presentations. This Windows 8 Modern PowerPoint Template can help you prepare clean, sleek presentations for business or personal use.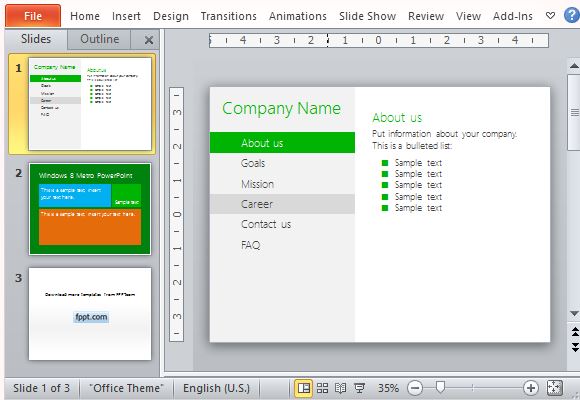 This free office template contains a page for your company information. It is designed like the Windows 8 interface where you can click on various Options on one side of the slide and the details will be displayed on the other side. It contains a header and the Company Name. Under this are sections for the About Us, Goals, Mission, Career, Contact Us, and FAQs. When you click on each one, the information will be displayed on the other half and you can write descriptions and bulleted or numbered lists.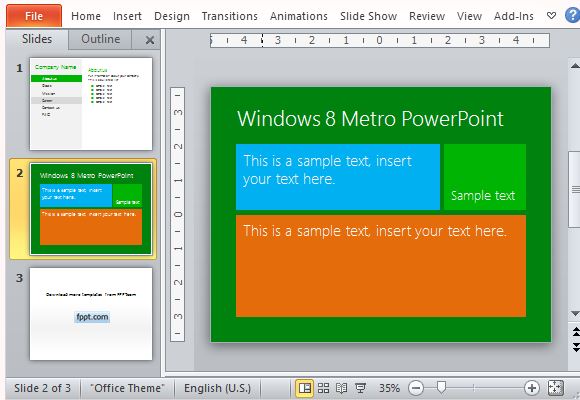 Another slide template contains the same design as that of the Windows Start Screen. This time, the different colored and shaped boxes contain sample text that you can modify for your own presentation to present your ideas and data in a more interesting manner. Instead of text, you can also insert photos in inside the Modern UI style tiles to make it look even more like the apps displayed in the Windows 8 Start Screen.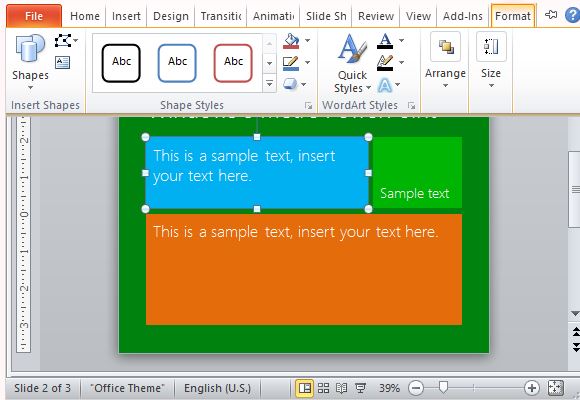 This Windows 8 Modern UI PowerPoint Template can be used for creating presentations about technology or devices, operating systems, or even if you want to present your review about Windows 8 itself. You can also use this for creating personal, business, academic, organizational, or even environmental presentations.