PowerPoint presentations need not be simple and boring. In fact, it is your chance to be creative to bring out or represent your personality, branding, or message. However, you should choose the right design to convey to your audience the message or feeling that you want. For example, a vibrant, colorful presentation design would convey happiness or whimsy. Meanwhile, a neutral tone or color scheme would show elegance and a classic theme.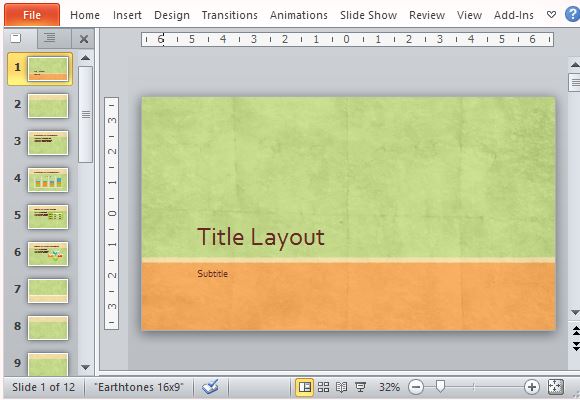 Get Closer to Nature
If you want to get closer to nature or want to talk about the environment, then you would like this Widescreen Earth Tone Presentation Template for PowerPoint. This PowerPoint Template is uses tan and green to create a simple and elegant two-toned slide design. The colors run side by side horizontally across the slide, with a thin beige line to separate the two colors. To add more interest, the colors are rough and textured, with creases as an effect, making it seem like paper. This gives your slides a unique, rustic look.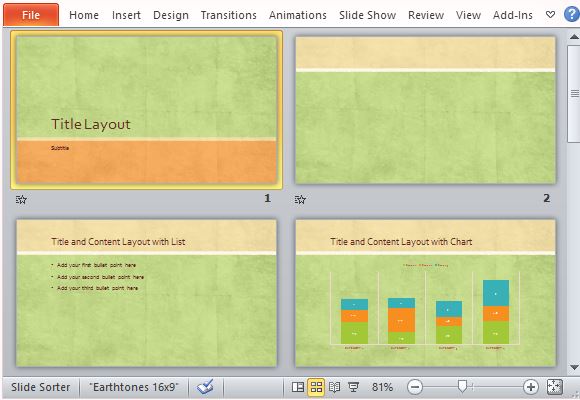 Perfect for art, decorating, arts and crafts, hobbies, design, textiles, clothing, and even literature or publishing, the template's widescreen format allows you to make the most of your space. You can use this to create a digital scrapbook or moodboard, for brainstorming sessions, and even business or school presentations.
Add a Rustic Yet Personal Touch
This free template contains 11 specially designed slides that start with a vivid cover slide where you can type in your title and subtitle in the placeholders. The inside slides have a more faint color to make your content stand out, while still retaining the textured look and the earth tone presentation colors.
The inside slides contain various layouts that you can duplicate, delete, modify or rearrange to suit your own specific presentation needs. The template allows you to present lists, graphs, tables, charts, SmartArt diagrams and photos, to name a few.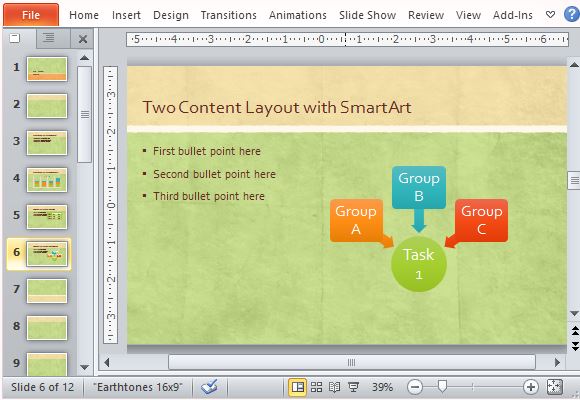 If you do not find a layout that you like, you can also click on New Slide to populate more layout options. Afterwards, simply type or insert your own data to complete your earth tone presentation.
Go to Download Widescreen Earth Tone Presentation Template for PowerPoint