People play different roles on a daily basis: sibling, offspring, parent, student, employee, boss, manager, co-worker, and so many others. We wear these different hats every day, sometimes many times at once. Juggling these many responsibilities can be difficult and for this, you would need a way to organize your schedule and keep track of your tasks.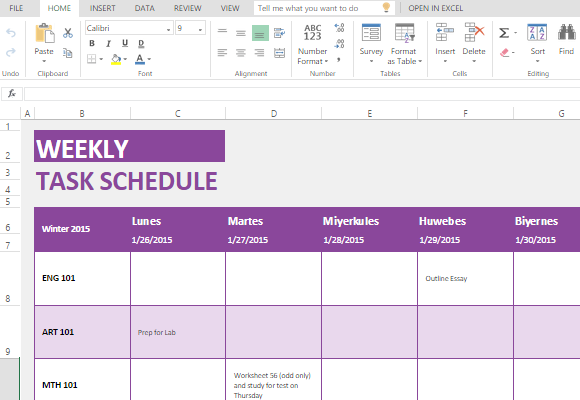 The Weekly Task List Maker Template for Microsoft Excel is a simple and reliable template that you can use for logging your tasks and plotting your weekly schedule. This convenient task list maker template can provide you a way to organize your activities and keep tabs of your schedule week after week.
This Excel template is great for people who want to keep their schedules organized, from busy homemakers to business owners. This is because whatever your tasks, milestones, projects, and schedules are, you can easily customize them on the task list template.
The template features two worksheet tabs: Weekly Task Schedule and Task List. In the Weekly Task Schedule tab, you will see a weekly calendar that starts with a preset date range that you can customize for every week. This start date can be entered on the table on the upper right-hand side of the worksheet.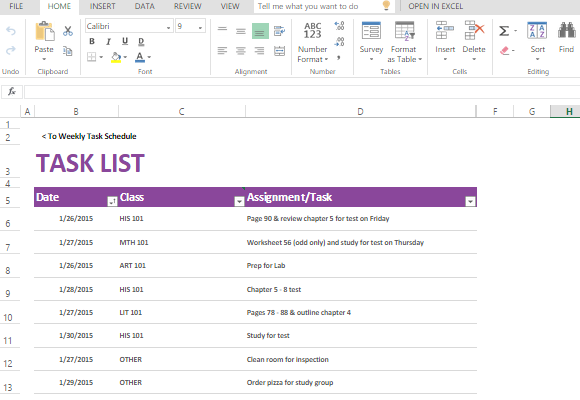 Below this is the table itself, which contains the days of the week, starting from Monday. Then, the rows are separated into categories, depending on the categories that you need. From here you can plot your schedule on the given day and within the corresponding categories. This ensures that you can easily see all your tasks within the week and visualize how busy each day will be or how much work on each category needs to be done.
On the Task List tab, there is a table that has various column and row headers. The columns are separated into different categories, such as Date, Class, Assignment/Task. These column categories can be customized depending on how you would label your own tasks. Nevertheless, you can list your activities here and watch it automatically update on the Weekly Task Schedule Table.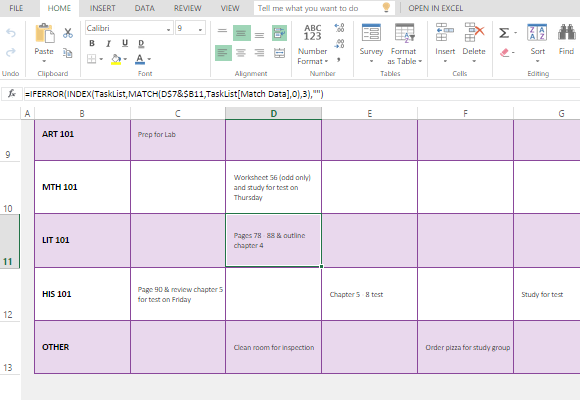 This Weekly Task List Schedule Template is an overall gem for your scheduling needs. With its clean layout and fuss-free features, you can be sure that your schedule will be organized and hassle free. You can even print your weekly schedule so you can keep it on your desk or post it on your office wall.