Household chores can be such a drag. However, someone has got to do them. Doing the dishes, cleaning the rooms, scrubbing the floors, taking out the trash, doing the laundry, they can be easily done with the right motivation.
The Weekly Chore Schedule Organizer for Excel is a beautiful template that will help you organize, plan and delegate different household chores for every one in your family. If you are renting a room or a house, then you can also use this Excel Template for sharing tasks with room or housemates.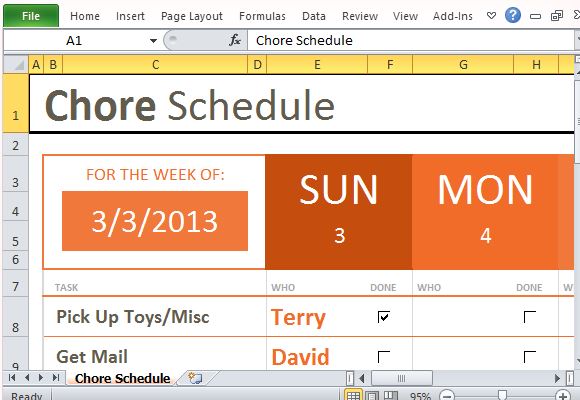 Assign Chores to Household Members
This Weekly Chore Schedule Organizer for Excel is a convenient template that is free to download from the Office portal. It can help you assign different household chores to different members of your family or your household. You can list all the chores and plot them into any day of the week.
The design for this Weekly Chore Schedule Organizer is simple, functional and straightforward. Every part of the template is created to contribute to making your life easier. All the days of the week are displayed so you can see the progress for the whole week in one table. There is also a cell on the top left-hand side corner of the table to indicate the date of the current week.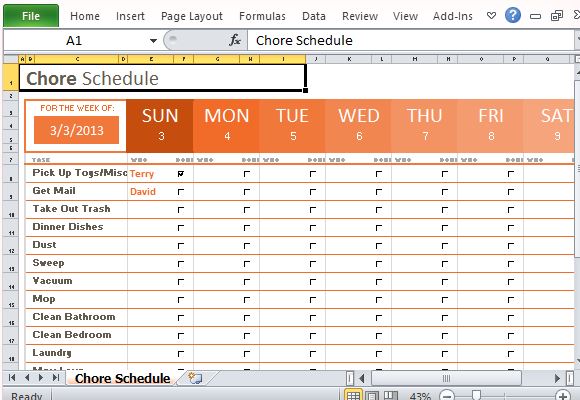 Keep Your House Spic and Span
To list the tasks that need to be done for the week, simply type them in the task list column on the left side of the template. From there you can assign each of the tasks as each day of the week has two sub-columns: Who and Done. This way, you can see which tasks are already accomplished for that day and who is responsible for it. Simply check off each task in each day when they are done so it is easy to update.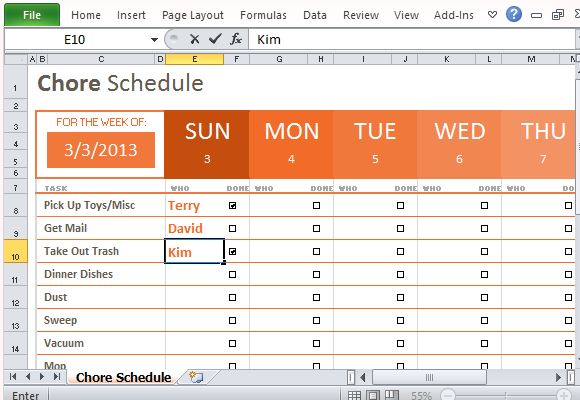 You can use this template with Microsoft Excel 2013 and earlier versions.