Droplets of water represent rain, life, freshness, and cleanliness. Droplets of water on a glass surface would remind one of rainy days staying in and getting warm at home. For PowerPoint Presentations, you can use the imagery of the water drop to convey many types of emotions and ideas. Below is a list of professionally designed elegant templates inspired by water drops.

Water on Glass PowerPoint Template
The Water Drop on Glass PowerPoint Template features a background containing an image of water drops falling on what appears to be glass. This template contains a cover slide where you can type your title and subtitle right on the curved, slightly transparent black overlay at the bottom of the slide. This title slide has a sophisticated, slightly modern theme that suits businesses and organizations. Nevertheless, it can also be used for personal presentations, as well as for school reports.
This template has a second slide where you can put your content, whether this is text, table, list, images, charts, diagrams, etc. If you want, you can add more slides by simply clicking on the New Slide button. From there, you can choose from the many layout options to find the right layout design to better present your information.
Go to Download Water on Glass PowerPoint Template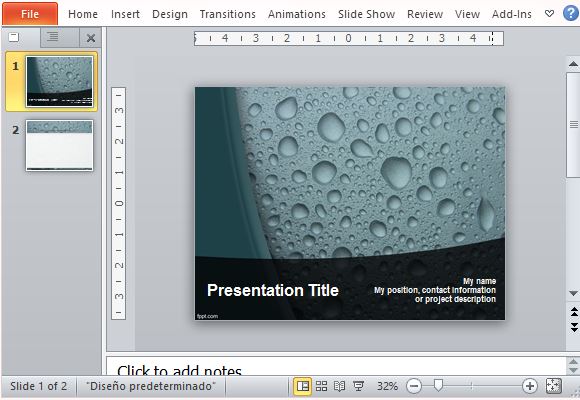 Blurry Lights and Surreal Design
A glass or window splattered with water or rain can change how you see the world through it. For instance, lights would appear as bright, blurred dots, such as the ones shown in this Blurred Lights PowerPoint Template. You can use this artistic template for many presentation purposes and topics. The template features a light-colored text so make your content stand out against this colorful background.
To build your own presentation, you can simply duplicate as many slides as you need and add tables, charts, graphs, diagrams and photos to it.
Go to Download Blurred Lights PowerPoint Template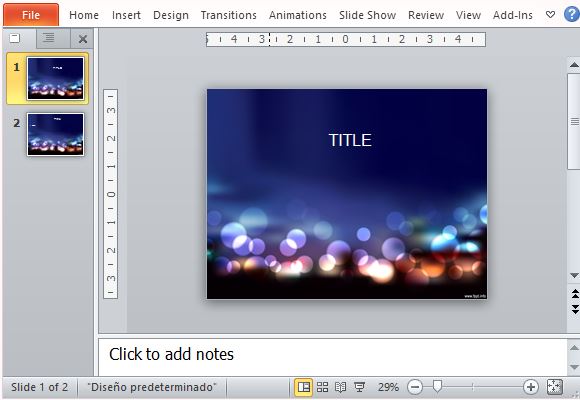 Raindrops on Glass
If you want to aim high, you should look up. And this is what this Raindrops Template for PowerPoint is all about. This template features a captivating image of a class ceiling where, through it, you can see raindrops and, beyond, the clouds. As a metaphorical effect, it shows the sun shining through the clouds, signaling the end of the rain, or even a storm. This is perfect for many presentation topics, especially if you want to signify overcoming struggles or difficulties.
This template contains four slides, and you can duplicate as many slides as you need to build your own presentation.
Go to Download Raindrops Template for PowerPoint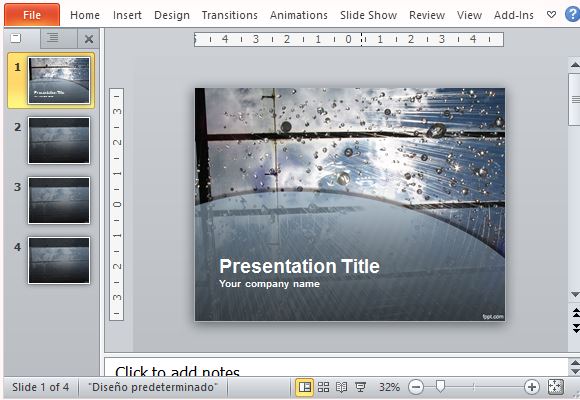 Fresh Water and Greenery
To highlight the freshness and greenery in your presentations, you can use this template. It features various fresh-looking shades of green, with a slight hint of blue and crisp white. This imagery brings to mind freshly picked greens, such as vegetables or plants.
This Fresh Green PowerPoint Template shows a swirling image that is like a drop of water and a ripple effect. This abstract design is perfect for many kinds of presentations, and suits personal, organizational, academic, or business purposes.
Go to Download Fresh Green PowerPoint Template