You can give your presentations that extra "oomph" to make it more eye-catching and interesting by using beautifully vibrant designs and images. You can choose themes and designs depending on the impression, message, or branding that you want to convey to your audience. Below is a captivating vapor trail graphic that you can use as your presentation theme for any topic or purpose.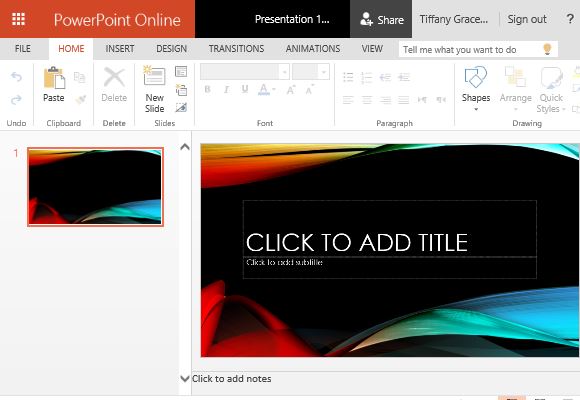 This Vapor Trail Abstract PowerPoint Template can help you create winning presentations with its abstract and colorful vapor-like design. Like all other PowerPoint Online Templates, this template makes it easy for you to access it anytime and anywhere using any mobile device or computer, with your OneDrive account. From here, you can customize and modify this PowerPoint theme to your own needs and preferences. Alternatively, you can save this template to your own computer and modify it from there.
Convey Movement and Dynamism
Different slide designs show different ideas and convey different feelings so you should choose one that best suits the message that you want to show your audience. To show movement, dynamism, speed, and even mystery, you can use this template.
This abstract design of rainbow colors shows ribbons that seem to be moving with the wind or with underwater currents, over a solid black background. This makes your content, such as text, tables, charts, images and other objects, stand out so your audience will not be distracted from your message.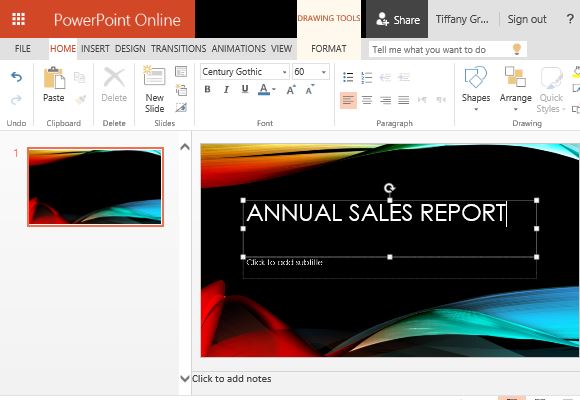 Professionally Designed to Suit Any Presentation Topic
This template contains a single, professionally designed slide that serves as a cover slide as well as inside slides. Simply add new slides and choose from the many different layouts that suits your own content. You can also use this template as transition slides or for featuring pictures, videos, diagrams, and other objects.
You can use this template for business, such as for creating sales reports, annual reports, financial statements, marketing plans, and employee training manuals. For school, students and teachers can also use this template for projects and school presentations.