Even when it involves work, it is always fun to travel and go from one place to another, discover different things like cuisines and cultures. However, with this also comes responsibility, especially when your company is the one paying for your business travel. Keeping track of your traveling expense can take out the fun out of the experience, but it has to be done, good thing we have a template that can help you out.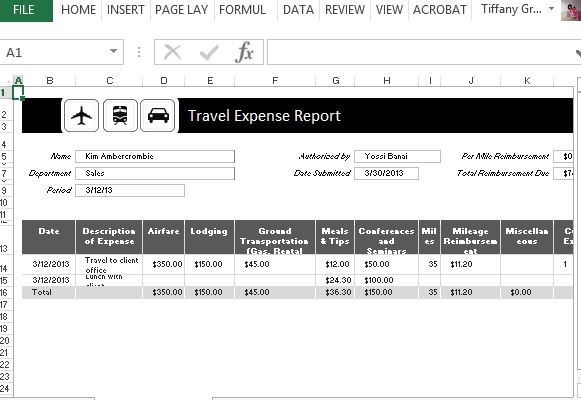 The Traveling Expense Calculator for Excel is a reliable expense recording template that can help you keep a neat and organized record of your traveling expenses. This template is a Excel 2013 templates that you can use for your business to record, classify, and update your travel expenses while you're on the go.
Make Business Travel Less Hassle
This traveling expense calculator takes out the hassle of many traveling employees who find it inconvenient to list down all their expenses as they are busy in the field.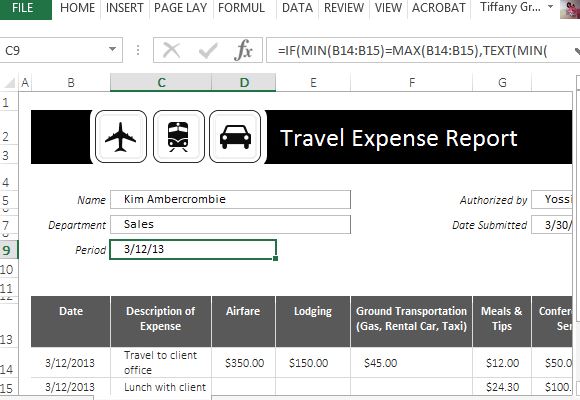 This template contains a header that immediately conveys travel as it features rounded square icons of a plane, train, and car. Next to it is the document title, Travel Expense Report, in clear and bold letters. This allows you to easily see or show what your spreadsheet is all about.
Underneath this header is a section for all your basic travel and work information. This includes Name, Department, Period, Authorized by, Date Submitted, Per mile Reimbursement, and Total Reimbursement Due. Next to each of these are blank spaces within boxes, which are indicators for you to simply type in your information.
Next is the traveling expense table itself, which features all your common expense categories. These expenses are listed across the tables, in columns, so you can easily list your expenses on a daily basis. This is because the columns first start with the date, followed by a list of the expenses which you can fill out in rows. The next day of your travel should be on the next row, and so forth. This format allows you to see the expenses on a daily basis and the total costs of each expenses category at the end of each day or the whole trip.
Share Your Report in an Instant
You can upload this and template on OneDrive, making it convenient and cloud-based. This allows you to access the template easily especially when you are on the road and need to record your expenses as they happen before you forget all about them.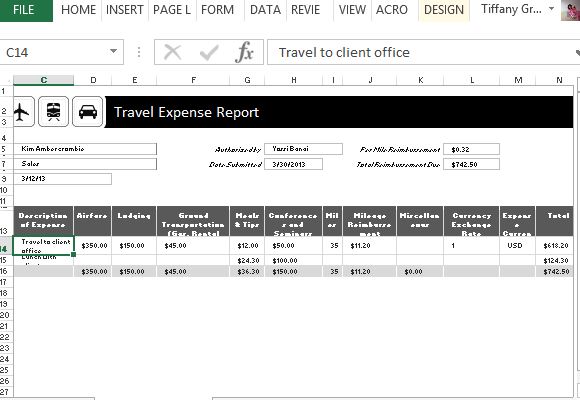 You can also easily share your traveling expense template with your team, especially if you are traveling as a group.