To let your family and friends know about the birth of your baby boy, girl, or even multiples without the stress and hassle of preparation, you can use these Templates for Making Cards for Child Birth Announcement.
These free Office templates are convenient ready-made cards for announcing and celebrating the birth of a baby, whether boy, girl or multiples.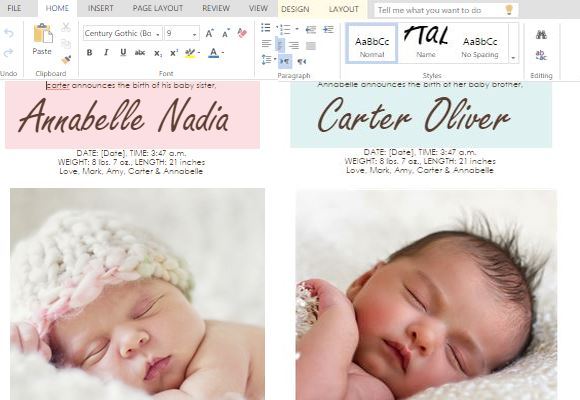 Pink Little Bundle of a Baby Girl
The Baby Girl Birth Announcement Template in Word Online is a cute, bright, and modern birth announcement card specially designed if you have a baby girl. This card template features two uniform cards in one standard letter-sized paper and you can print as many cards as you need.
It has a sample image of a sleeping newborn baby girl, which you can change with an image of your own baby. The rest of the card's design and text elements can also be changed to suit your own preferences. You can even change the background color, add patterns, and format the picture. To personalize the birth announcement details, simply follow the guide and change the text with your own baby's name, date and time of birth, weight, and length. You also have the option to add other details, such as the hospital and room number so well-wishers and other family members can visit.
Go to Baby Girl Birth Announcement Template in Word Online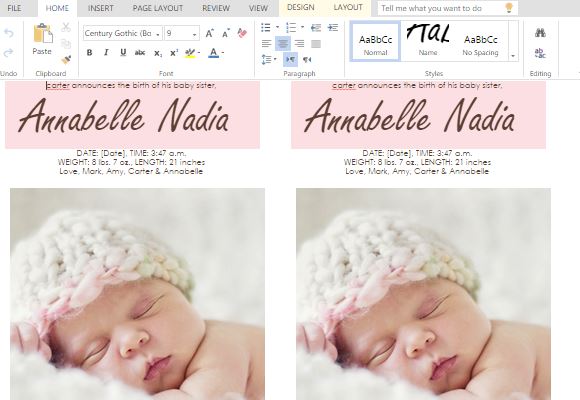 The Stork Brought in a Baby Boy
Like the birth announcement template above, this Baby Boy Birth Announcement Template for Word contains two cards in one standard letter-sized paper. It features a sample image of a peacefully sleeping newborn baby boy.
This card announcement template features a powder blue theme on the shape overlay where the baby's name can be seen. Still, you can change this according to your preferred color or theme. You can also change the background to any color or pattern that you like. You can also follow the text guides to personalize the card and type your own information in the card.
And because this and the above birth announcement cards are in Word Online, you can easily share them online via email or social media as soon as you are done updating and customizing.
Go to Baby Boy Birth Announcement Word Template