In any endeavor that requires many people to work together towards a single goal, teamwork is essential. In projects requiring teams, the best and most effective project managers or team leaders maximize each member's strengths while downplaying, or even equalizing, weaknesses. Nevertheless, the ability to harmoniously work together as a team could ultimately make or break the chances of success of the whole team.
The Teamwork PowerPoint Template can help you emphasize to your team or employees, the importance of teamwork. When each member of the team is motivated and responsible, he or she contributes to the success of the organization as a whole.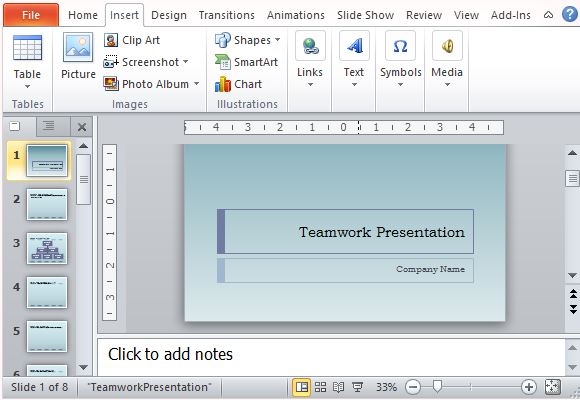 Engage and Empower Your Team
This Teamwork PowerPoint Template is designed specifically for presentations involving the team dynamics and how to maximize them. The template has a blue theme that is easy and calming on the eyes as it also helps you make your content stand out.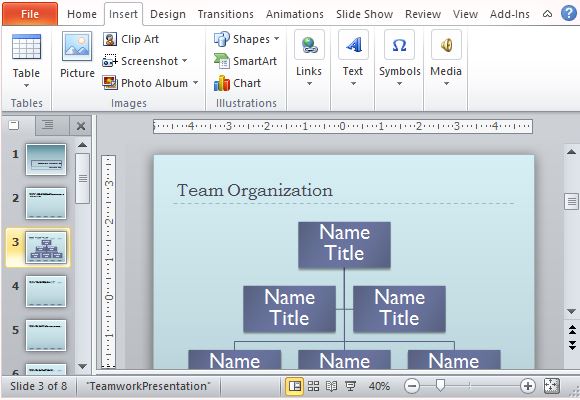 The template starts with a cover page with your title in big bold letters, and your subtitle or description in smaller text. The design of this slide is simple and functional, allowing your audience to see your slide even from the other end of the room.
Follow Guidelines to Create a Presentation in Minutes
The inside slides contain the same theme that helps you discuss important points about teamwork in an organization. The built-in Organizational Structure in the template, a standout feature, makes it easy for you to make your team members or employees become more familiar about the different roles in the organization and how these roles relate to each other. This Organizational Chart is created to make it convenient and easy for you to fill out. All you have to do is change the sample text in each of the boxes into the Names and Titles of your own personnel.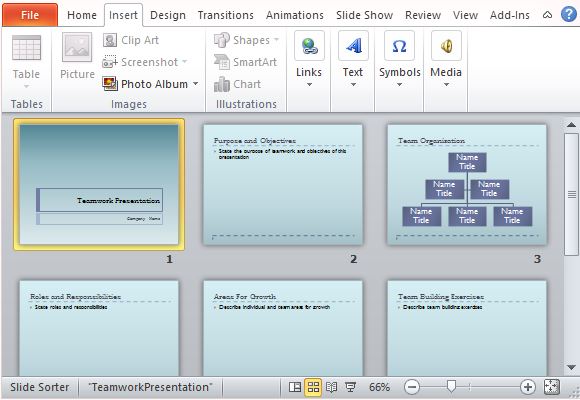 The headers located on top of each slide help you compose a well-organized and sensible presentation. The header titles include Purpose, Objectives, Team Organization, Areas for Growth, Best Practices, and many more. Following the guides and tips on each slide will help you organize your ideas and present them in a logical manner.
This template can be used in seminars, coaching, counselling, employee orientation, etc.