For Account Managers, Account Executives, or anyone involved in Sales, keeping tabs on your biggest and regular clients is important. Key Account Management is a good way of looking after large and valued accounts critical to growing your business. It also allows you to plan and execute a successful sales strategy.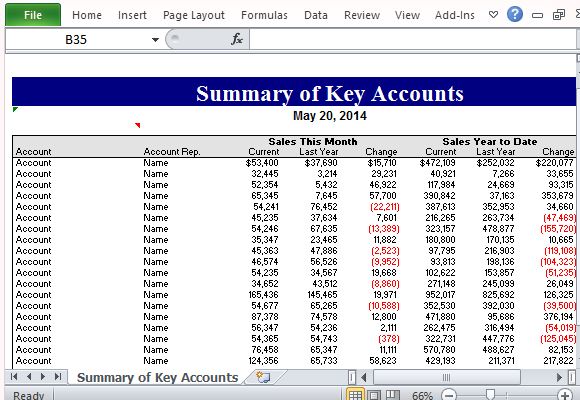 The Summary of Key Accounts Excel Template for Sales Strategy Planning is a very useful spreadsheet that helps you record and track your company's key accounts, which are large, repeat customers. With this Excel template, you can also easily create Key Accounts Analysis and Key Accounts Reports that you can insert into your presentations.
This Excel template consists of a single table that lists your Key Accounts. It is divided into several columns for your Account (Name of Company, Organization or Person), Account Representative, Sales This Month, Sales Year to Date, and Orders. These figures show how well your business is with your key accounts so you will know if your business with each one is growing, declining, or stagnating. You can also see by how much your business has changed over the months.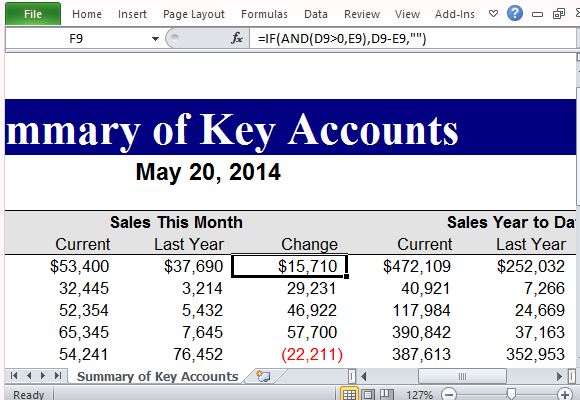 The Sales This Month category contains your Current Sales, and compares it with your sales Last Year on the same month. The change, or difference between the two comparisons is also automatically computed and displayed in the table. Meanwhile, the Sales Year to Date shows the comparisons between your sales with a particular client within the year and the previous year, with a Change column to automatically compute the difference.
This Summary of Key Accounts Excel Template also shows how many orders you were able to get from each client and the order activity through the months. A Total row at the very bottom of this table also shows the overall totals of all the clients, or key accounts. This well let you know how much you have earned in sales and in orders during that month, and during that period of the year.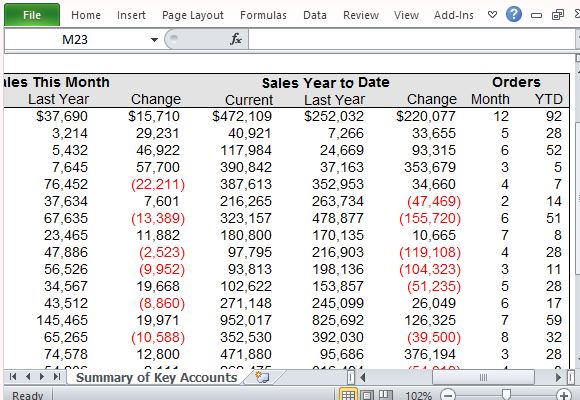 Whether you are involved in retail and wholesale of various goods like cars, equipment, computers, gadgets, real estate, or any other products, you can use this Summary of Key Accounts Excel Template for Sales Strategy Planning so you know where you are in your sales efforts and plan your activities based on that information.
Update:
This Excel template is no longer available, you can download related templates from our reviews of Sales Templates for Excel or download the alternative template given below.
Go to Download Customer Profitability Analysis Excel Template