A Statement of Work lays down the guidelines that both parties agree upon for the performance of a job. It is important in ensuring compliance and proper monitoring of projects that are especially done by a vendor or third party. It can also be used for setting up a bid for a project or the groundwork before a project starts. Either way, this helps both the vendor and the company or client and therefore creates good business relations.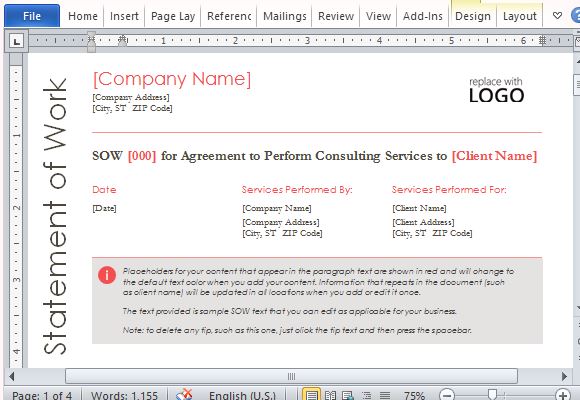 The Statement of Work Template for Microsoft Word is a professional-looking and impressive template that can help you get started with your own statement of work. This statement of work template is one of the many business templates that you can use for your own company, whether you are involved in retail, manufacturing, service, trade, or any other industry.
Eye-Catching Statement of Work
This statement of work template is free to use. Best of all, it is part of a beautifully designed, modern-looking Red Design Set, which means you can also include other business-related documents from the set to add to your own and make it all look modern, seamless, uniform and overall attractive. After all, nothing says professional to your competitors and customers than a beautiful set of documents that go together and carry your brand as a whole.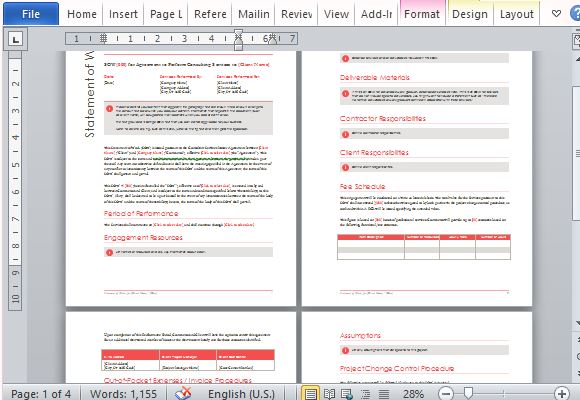 This free Office template has a minimalist red theme, with clear headings and subheadings so you and your readers can easily tell apart the sections from each other. You can also place your own company logo at the top part of the template.
Clear and Concise Document
With this template, you can clearly define the work involved, timeframe, deliverables and expectations the vendor or third-party must meet. Meanwhile, it also contains the pricing and other compensation requirements as well as other terms and conditions to be followed by the client. In other words, using this Word template can help you express your commitment to the task and show compliance to protecting both parties as the job is being done.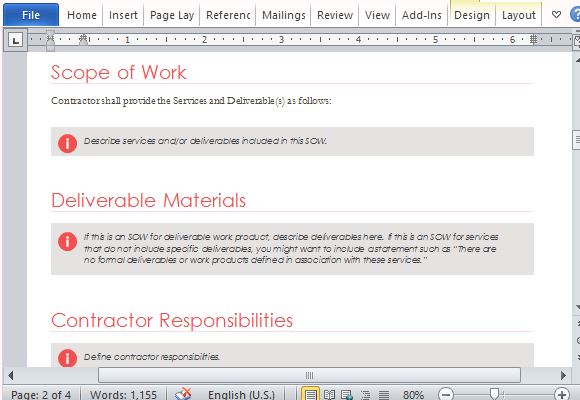 There are tips in gray boxes that help and guide you as you write your own details in the template. There are also placeholders within the paragraphs so all you have to do is fill in the needed information. By following the guides, you can easily create a well-written statement of work that covers all the bases of the job to be done.
Go to Download Statement of Work Template for Microsoft Word