Spring may be over but before you know it, it's just around the corner. Nothing gives everyone as much excitement as the thought of a spring or summer vacation by the beach. If you are planning a vacation, creating a sales pitch, conceptualizing for a marketing campaign, displaying beach products or simply making your last vacation's photo album, you will find the template below perfect for you!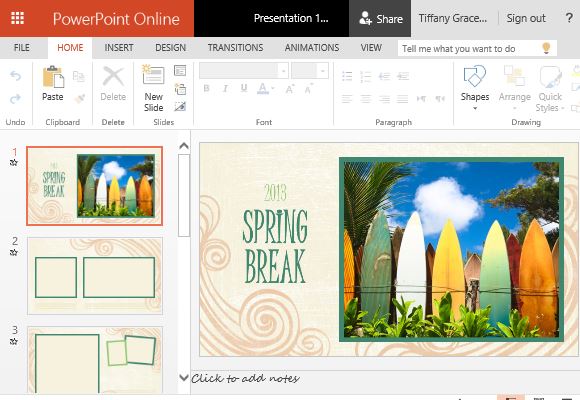 The Spring Photo Album PowerPoint Template is a beautifully designed template that instantly channels nature and the beauty of the beach into your presentation. With its beach, surf and spring break theme, you will easily reminded of your own days basking in the sun while having the time of your life with family and friends.
This versatile spring photo album template is a widescreen template that would also make it easy for you to put as many photos as you need, especially that of the beautiful landscapes and sceneries of your last spring break and vacation.
Its beachy surf theme is prevalent on all its seven sample slides. It features a graphic or even graffiti-like image of the waves in the background, which is also textured like sand to keep with the theme. Aside from being beautiful and summer-y, this template is also easy to use and very convenient because it is in PowerPoint Online, which makes it easy for you to access the template from anywhere at anytime, using any device with a browser.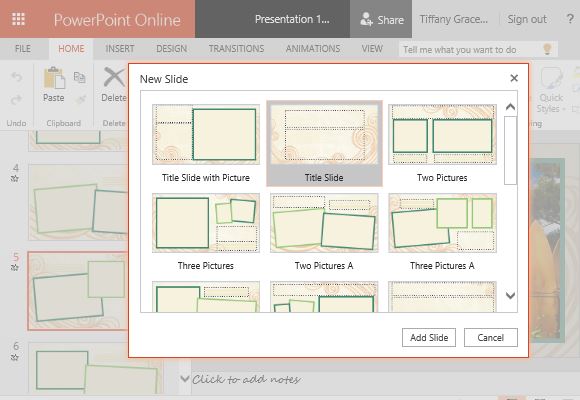 The template contains various slides with various slide layouts that allows you to insert your vacation photos and present them in the most interesting manner. The first slide features an image of surfboards lined up against the beach, with coconut and palm trees in the background, and beyond the clear blue sky. Of course, you can change this sample image for your own. You can also change the "Spring Break" title for your own creative title that best represents your experiences.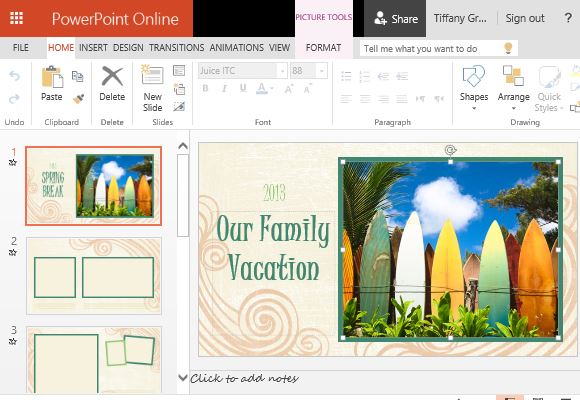 Because it is PowerPoint Online, you can modify the template straight from your browser, or save the file to your own computer. Either way, it is easy to share the presentation with your family and friends, and they can even add their own photos to complete the whole photo album.