For a team manager or a coach, managing your team through leagues, trainings and games can be a lot of hard work. Oftentimes, you'll find yourself stuck with a heap of administrative paperwork that keeps you away from what is most important, ensuring that your team is in tip-top shape to perform.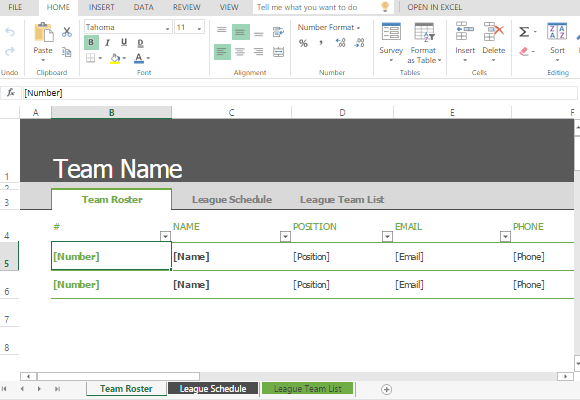 The Sports Roster Excel Template can help you keep things together in the background so that your players can truly shine. This specialized template for Excel Online allows trainers, coaches, and team managers to easily keep track of their teams in the different leagues they play in, even when on the go.
Lead Your Team to a Winning Streak
This sports roster template is reliable and highly functional, so that you can spend less time navigating and working on the figures and more time being on the field and focusing on the team.
This sports-themed template features different tables in different worksheets and each table has a specific function. The worksheet tabs are named as follows: Team Roster, League Schedule, and League Team List.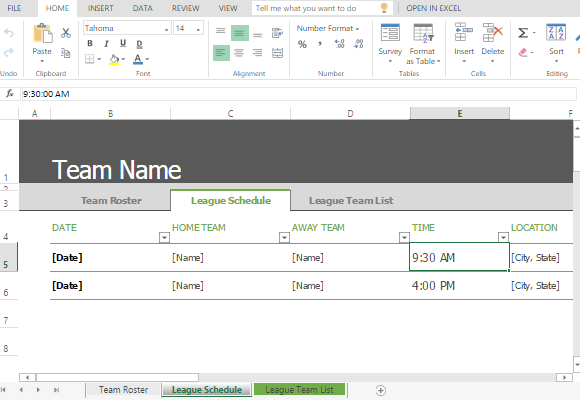 The Team Roster table contains the names of the members of the team. This contains player-specific information such as player name, number, name, contact information, etc. This makes it your directory to be able to contact players whenever necessary.
The League Schedule worksheet contains all the games slated for the team to play in for a specific league and/or season. This includes the date, home team, away team, time, and location. This record keeps everyone on the same page as to which opposing team to play for and where to go to play next.
Lastly, the League Team List allows you to list all the teams within your league, as well as contact details and winning stats.
Enjoy Being Updated on the Road
This is an Excel Online template. You enjoy the convenience of accessing your roster anywhere you go, especially when you are on the road playing. You can see all you need to know about your team through this template, simply open a browser and go to your OneDrive account.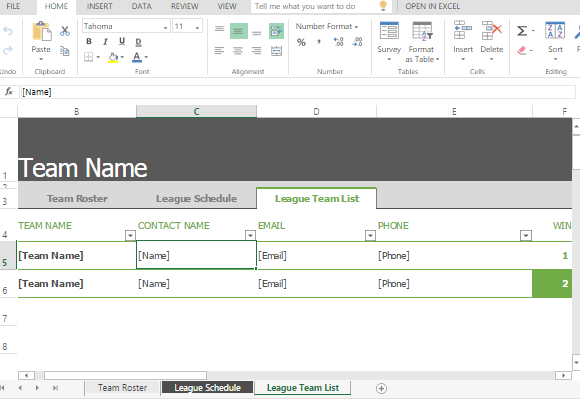 Since this Excel roster template is cloud-based, you can also update it for everyone else to see, such as your team managers and players. This ensures that you are all updated on what is happening with your team and your league.