An organizational chart is crucial in every company or organization as it sets a clear hierarchy of responsibility and accountability for everyone involved. It also creates a chain of command so that people will know who is in charge of who and where certain responsibilities and tasks lie.
The Simple Organizational Chart Template for PowerPoint is a wonderfully designed template that you can use to map out the roles of employees in your organization. This template makes it easy to easily create a professional-looking organizational chart, without expending a lot of time and effort.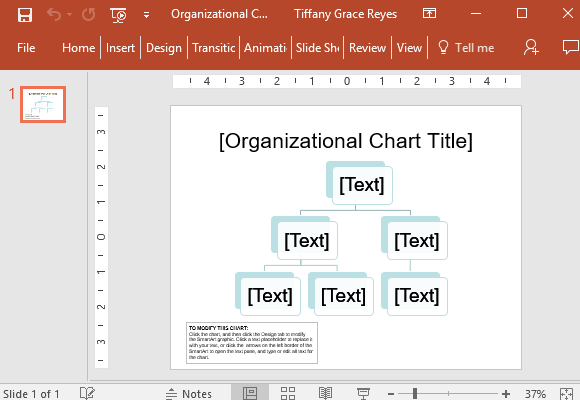 Effortless Organizational Chart Template
This organizational chart template, though simple, is very handy and can be used for all kinds of organizations and companies. The presentation template features a predesigned slide using SmartArt to create a vertical hierarchy. This hierarchy contains a set of shapes that are joined together. Each of the shape has a text placeholder to indicate the name of a particular employee in a particular position. The lines indicate each employee's relationship with each other. You can add more text placeholders or simply just type a title or position under another line below each name.
The slide itself is also elegantly designed, with an organizational chart title on top, right in the middle. There's also enough space on the template to add more designations to the hierarchy in the sample organizational chart, so you can use this template whether your company is big or small.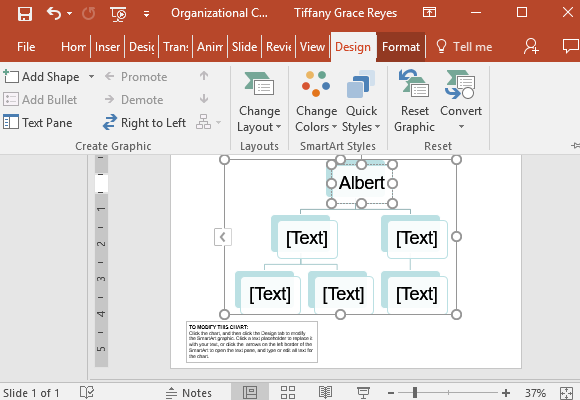 Customize Template for According to Need
The template can also be customized to suit your branding strategy. By going to the 'Design' menu in the Ribbon, you can choose the themes and quick styles that best suits your preference. You can also add more details in the Insert menu, such as images and shapes. You can even add your company or organization logo and slogan to further personalize your organizational chart.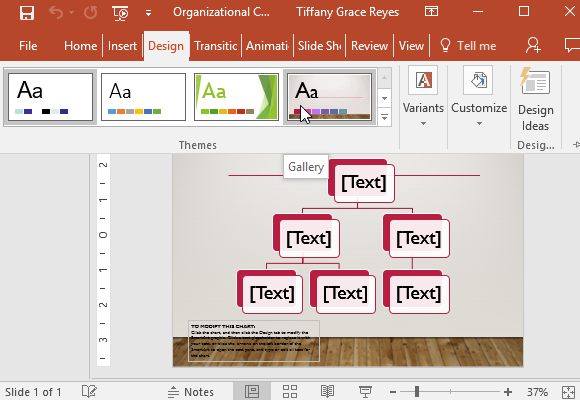 Once customized to your liking, the organizational chart can be inserted into an existing presentation, such as a company profile. You can also save this slide as a PowerPoint presentation in itself for display in seminars or conferences, or print this to be posted in your office or company building.
Go to Download Simple Organizational Chart Template for PowerPoint