Starting the school year means starting it right. Nothing gets a student excited, especially a child on his or her first day of school than the idea of shopping for school supplies and generally preparing for school. To ensure that they get their right start, many things have to be planned. Aside from this, the budget, of course, is important to ensure that the money goes into the right things that will actually help with school.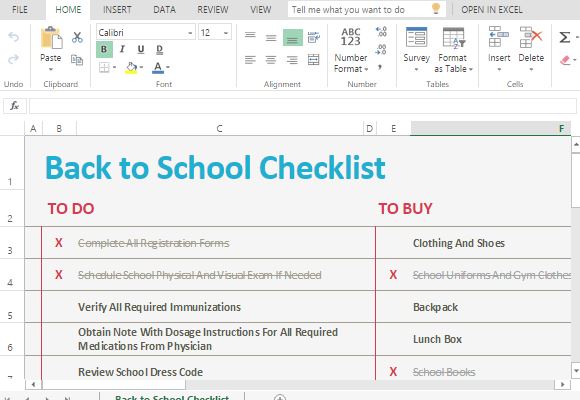 The School Checklist Template for Excel Online is the perfect template to help prepare students for school. Like other free Office templates at Office Online, this template is professionally designed to look organized and allow convenience to users, regardless of computer skills.
Easily List What You Need to Do or Buy
The template is pretty much easy because it already comes with sample text that you can use for your own school checklist. Simply type into the cells the word that you want as labels. You can also add more items on the lists, which are actually divided into two categories: To Do and To Buy.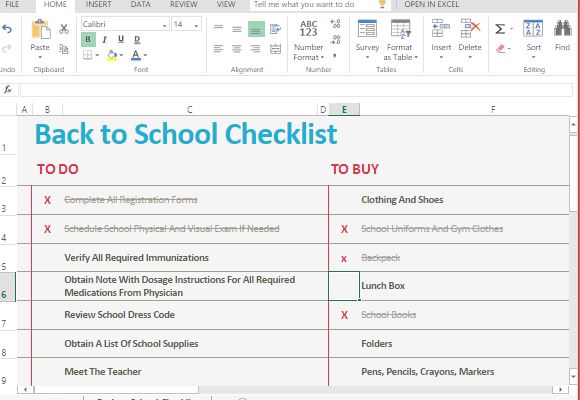 You can tick off items on the lists as you complete them simply by putting an 'x' mark in front of each corresponding item. The item will automatically be grayed out with a strikethrough so you can tell it apart from other items that you are yet to complete. This will allow you to see even at a glance your progress through your checklist so that you will not forget anything or even do things twice.
Collaborate on Tasks and Share Your Progress
What is also great about this template is that it is in Excel Online, which gives you the options to edit it on your computer or on your browser. The cloud-based template can be conveniently accessed using any browser on any mobile device or computer, which is wonderful especially when you are on the go. You can even print the school checklist out and tick items off by hand using a pen or pencil.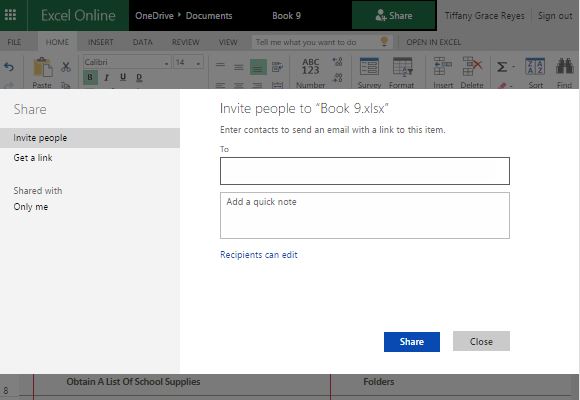 Another feature of this Excel Online template is its easy sharing functions so that you can also get your whole family in on the task to help you complete the checklist.