Conducting an event, like a concert, play, or fundraiser, can be very costly. This is why many events usually ask for sponsors and thus create sponsorship proposals to send to companies and other organizations. The Sample Sponsorship Proposal Template for Microsoft Word is a useful document that you can customize for your own, to help you find sponsors for your event.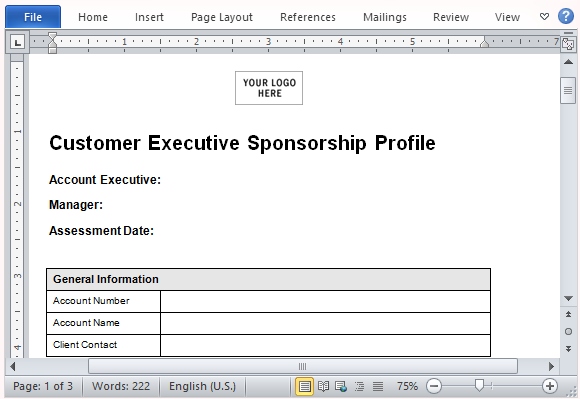 There may be other articles that can teach you how to write a sponsorship proposal but Microsoft Office Templates like this will make your job easier. This Sample Sponsorship Proposal Template matches the right contacts between your own organization and your customers'.
This Sample Sponsorship Proposal Template for Microsoft Word can help build stronger and better relationships between organizations or find sponsors for an upcoming event. This sample template lets you identify a manager in your company who has similar interests and experience suitable in assisting the client.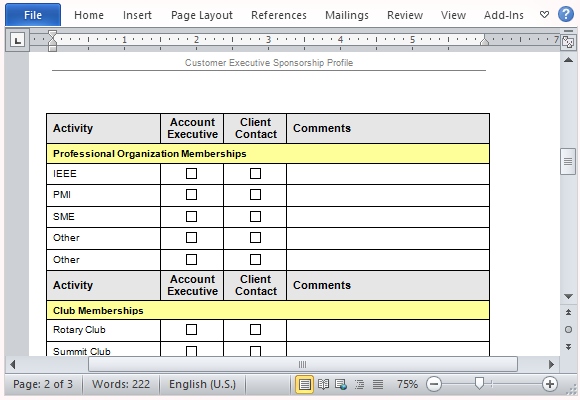 This three-page Sponsorship Proposal Template contains a placeholder for your logo and a header containing information on Account Executive, Manager, and Assessment Date. Below are two tables, which contain General Information and Activity Status for every type of Activity, such as Organizational, Professional Memberships, Club Memberships, Alumni Memberships, Outdoor Sports, Indoor Sports, and Hobbies, to name a few.
You can also use this Sponsorship Proposal Template for proposal presentations since the tables can be inserted into the slides. For presentations, you need to also include event information such as organizer, audience, brand sponsors, pricing structure, and background information.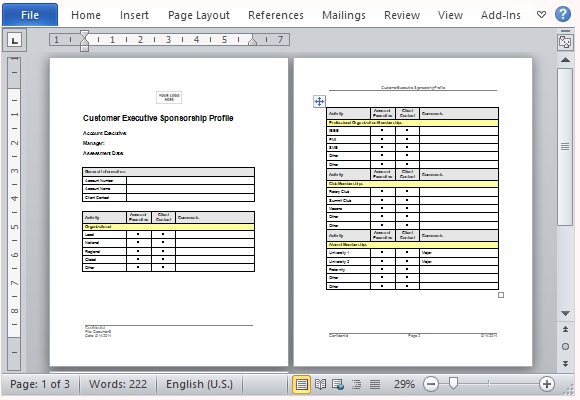 This Sample Sponsorship Proposal Template for Microsoft Word is easy to modify and customize for your own company and theme. All you have to do is fill it in with the needed information. You can also follow this up with a phone call or email to assess sponsorship interest and to schedule an appointment to further discuss the sponsorship and the event itself.
Update:
As the above template is no longer available, you can download alternative sponsorship proposal templates via the link below.
Go to Download Sample Sponsorship Proposal Templates for Microsoft Word (Alternative Templates)