A company that gets much of their revenue through sales of products and services should invest in training their personnel. This is because your personnel should be knowledgeable and effective in closing sales and, if possible, at the shortest time possible. This will help save your company tons of money, as well as generate more sales on a regular basis.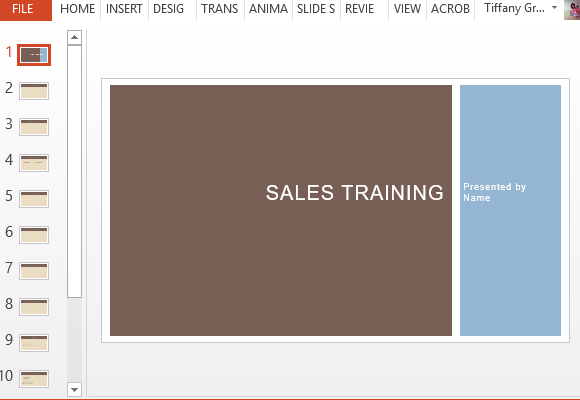 The Sales Training PowerPoint Template is a free template that you can use each time you train your personnel for more effective and results-oriented sales. This can help you organize your data and create a beautiful and eye-catching sales training kit for teaching new-hires, updating personnel, or just showing new sales tricks.
The template is also modern, sophisticated, and streamlined in design, with tan and powder blue color blocks that set off each other beautifully. The white and brown text coordinate with the whole look of the template. You can also easily add your personal touch to the slides by adding your logo using the Insert Picture function. You can even add headers and footers on the slides without any hassle.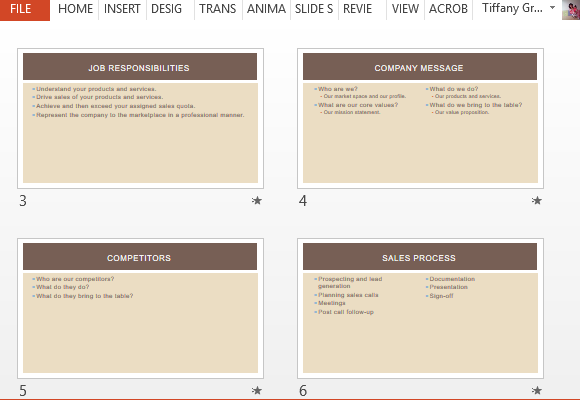 This free sales training template contains 13 slides specially designed and organized for sales training. It starts with a title slide that has coordinating color blocks and designated sections for the title and subtitle as well as presenter name.
The inside slides contain a light brown background set off by tan blocks for accent. Here, you can find that there are slide headings that guide you as you complete your own sales training presentation. This includes Company Information, Direct and/or Indirect Competitors, Sales Process, Message, Lead Generation, Meetings with Prospective Clients, Making Sales Calls, Making Follow Ups, Reporting, etc. You can of course add more slides or delete ones you don't need, depending on the flow of your own sales training. This is especially true if you have proprietary processes.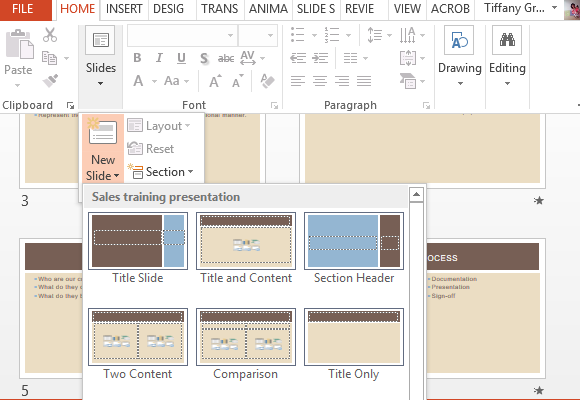 You can also keep this template on your OneDrive account by uploading it on the cloud so you can access it anytime and anywhere. You can also share your finished sales training presentation to your employees by sending this through email or by conducting a webinar.