Many companies today, big and small, usually resort to social media and other online marketing efforts to promote their company. Nevertheless, many of these same companies still prefer the traditional flyer due to its direct impact to its customers.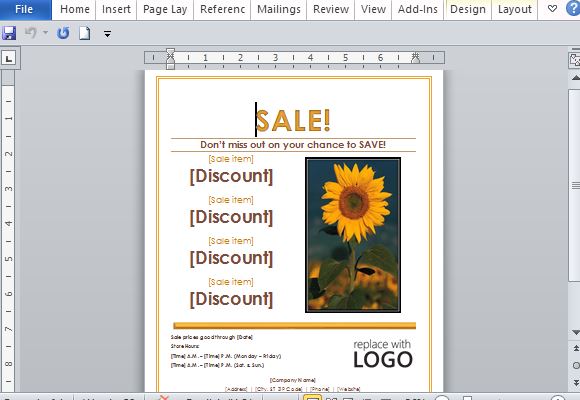 So if you are running a business, you can consider the many benefits of flyers as one of the most effective ways to market your products or services. The Sales Flyer Template for Word can help you easily create flyers for your business, whatever industry you belong to. Whether you are announcing a store opening or a sale, or if you want to introduce a new product or service, you can use this sales flyer template to gather interest from your customers.
Although this template is in Word 2013, users of earlier Word versions can still enjoy backward compatibility. Not only that, the template, as with many others in the Office portal, is downloadable for free so you can use it anytime you have marketing efforts that require flyers.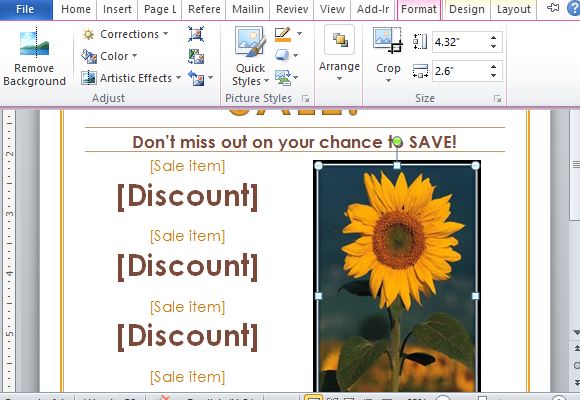 This Sales Flyer Template contains the perfect balance of text, images, and white space so it is easy on the eyes. It also highlights the major points of your flyer, such as your company's name or logo, your discounts or promos, and the products or services you want to promote.
This flyer template already has the layout done for you so you can easily follow the sample text and modify the placeholder text to personalize your own flyer. There is also space for your product or services' photo. Simply delete the sample image and insert your own picture from your computer.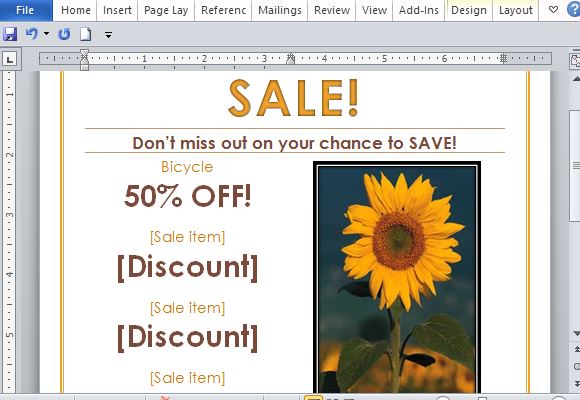 If you want to further personalize your flyer, you can still change the layout and modify the theme, background, borders, style, format and many other elements in the flyer. This allows you to make your own brand stand out and deliver your content in the most effective way according to your own need.