Flowers complete the look of any occasion, whether it is a festive birthday, celebratory wedding, or even a sorrow-filled funeral. Furthermore, flowers also contain various symbolism that add more meaning to the occasion, as well as to those that host it or are part of it. One popular flower most often used in any occasion is the versatile rose, which comes in a myriad of colors and varieties.
Below are different Free Rose PowerPoint Templates that you can use for all your presentation needs and even for different occasions.

Simply Red
One of the most iconic arrangements in any occasion is that of a red rose bouquet. It symbolizes love, and is mostly given to one's partner or spouse, especially during Valentine's Day.
So if you are planning to create a love-themed or Valentine's Day presentation, then you can use this Red Roses PowerPoint Template. Whether you are using this for school, work, or personal use, or you simply want to give a loved one a show of your affection, this template is perfect.
This Red Rose PowerPoint Template features red roses on green stems, over a background of subtly swirling shades of green. The text style also complements the theme with its red and green fonts. To create your own presentation, simply click on New Slide to add more slides and choose from a variety of pre-designed layout options.
Go to Download Red Roses PowerPoint Template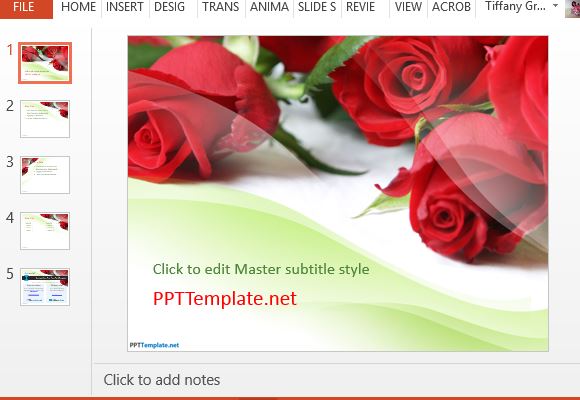 A Bouquet of Fun
If you are looking for a presentation that you can give to your loved ones or significant others as a gift or a show of appreciation, you can send them a bouquet–in the form of a presentation.
Using this Rose Bouquet PowerPoint Template, you can make any slideshow extra sweet and beautiful with a bunch of roses incorporated in the theme. This template is perfect for event presentations for weddings, anniversaries, and even birthdays. Furthermore, this template can also be used for business or school purposes.
This romantic template features peach-colored roses in full bloom, similar to a bunch of roses, these roses are prevalent in all the slides, that all have different layouts to allow you to present your data in different ways.
Go to Download Rose Bouquet PowerPoint Template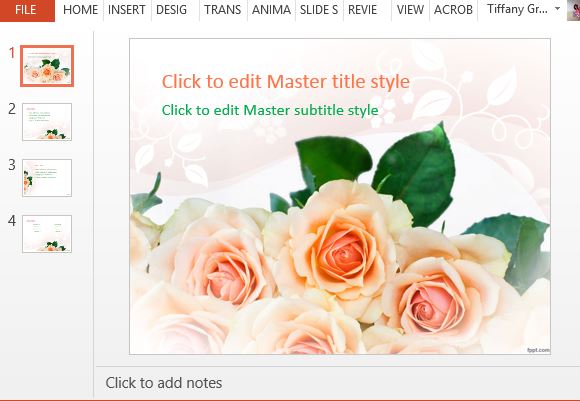 Life's Peachy
Known as symbols for gratitude, peach roses are great for "Thank you" gifts or for bringing to a house that you are about to visit, or just for brightening up the day of someone in your life that you are thankful to have.
This Peach Roses PowerPoint Template is ideal for events, such as reunions, store openings, anniversaries, and even just for simple family gatherings. It can also be used as business templates for those who are involved in flower arrangements, events management, and design. It can even be used by students for biology or botany subjects.
Simply add as many slides as you need by selecting the layouts that come with this template. You can also create your own layout, as well as add tables, graphs, charts, diagrams, and images.
Go to Download Peach Roses PowerPoint Template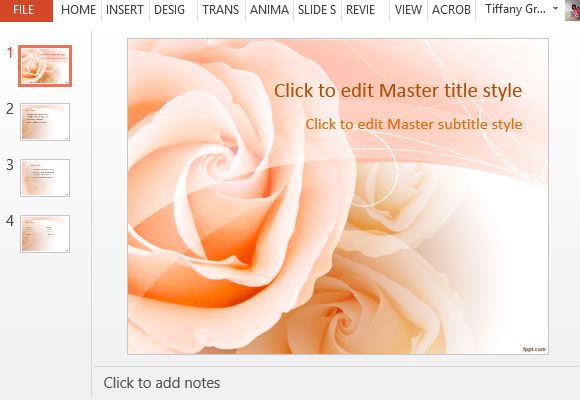 Bid Farewell
There are presentations for any occasion, so if the unfortunate time comes that a loved one passes away, you can still commemorate and pay homage to his or her memory using this Funeral Rose PowerPoint Template.
This template features a very appropriate theme for funerals, with a gray background with subtle graveyard images. This is then set off by an overlay of a flowery funeral bouquet with a white rose as the focal point. There is also an elegant shape overlay with a shadow effect, this time with a glossy gold line accent. Here, you can include your event title.
You can create a presentation from this or use the title slide as a stand-alone for the funeral program.
Go to Download Funeral Rose PowerPoint Template