Not many people may know this, but if you are in the human resources industry, then you belong to a "soft industry". It is called "soft" because of the fact that human resources activities do not always produce quantifiable or measurable results, financial data and returns, or even direct revenue.

Overcome the "HR Stigma"
Human resources is involved in activities such as recruitment of people, boosting employee morale, compensation and benefits. These things do not normally translate to sales or even increased revenue. This said, calculating the return on investment (ROI) on human resources efforts allow HR professionals to show to the rest of the company exactly how its activities help the organization.
Through the Return on Investment PowerPoint Template, you can show your company just how important your human resources department is. This will give human resources personnel more credibility because the rest of the company can see what goes on in their HR processes and how much it benefits the company as a whole. Human Resources need to calculate the ROI to find ways to thoroughly measure its benefits to the company and present quantifiable data.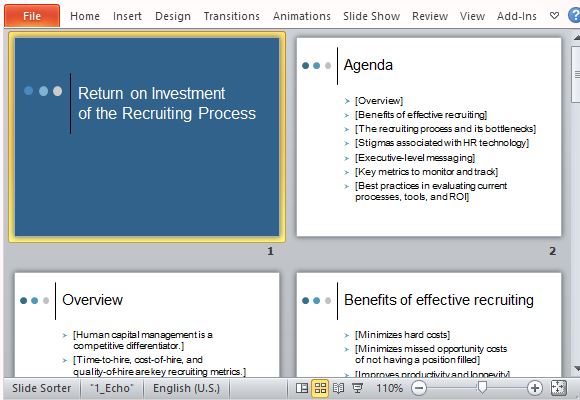 Present Clear Quantifiable Data
Aside from featuring a uniform design and cohesive theme, the Return on Investment PowerPoint Template can make this whole process of quantifying human resources data so much easy. It can help recruiters present all the information it needs to show management and high-level executives what HR can bring to the table. It is professionally designed and well-written to impress any audience.
The PowerPoint Template provides a guide on how the ROI on Human Resources can be presented. The information is arranged in a logical and systematic manner. It contains the Agenda, Overview, Recruiting Process Bottlenecks, Executive-Level Messaging, Key Metrics, Best Practices, Stigmas of HR Technology and more. You can also add more topics or sub-topics depending on your need.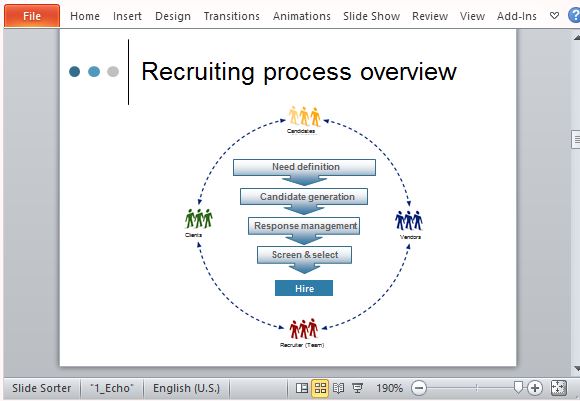 It is worth mentioning here that this template already contains layout options for presenting data through text, lists, diagrams, tables, and many more.
Go to Download Return on Investment (ROI) PowerPoint Template