Buying real estate such as a residential property is a huge investment. It requires careful examination and consideration on the merits of the property, especially its location. Such a transaction must be properly documented and there should be a legally binding contract to seal the deal.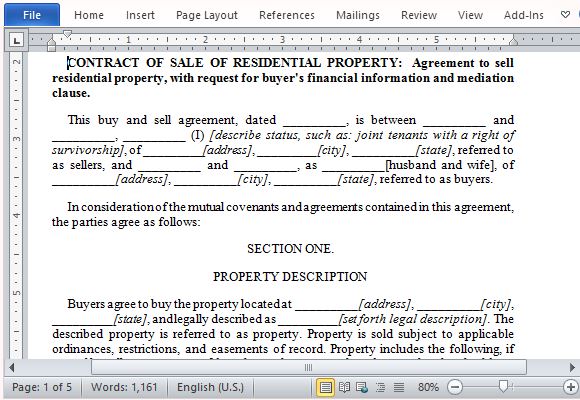 The Residential Property Sale Contract Form for Word is a professionally written template for creating a legally binding contract involving the sale of a residential property. This Word 2003 template is printer-friendly and can be downloaded for free. It works best with Word 2003 or later versions yet is still backward compatible with earlier Word versions.
Easily Fill Out Necessary Information
The contract template is like free forms type of templates, as it allows you to fill out the necessary information as indicated in the blanks scattered throughout the template. Filling out the form can be done on your computer. You can also print out copies of this residential property sale contract so you can fill it out by hand. Because of its design, you can find it also convenient to print out multiple copies for your clients if you are a real estate agent or anyone whose job involves residential property sale transactions.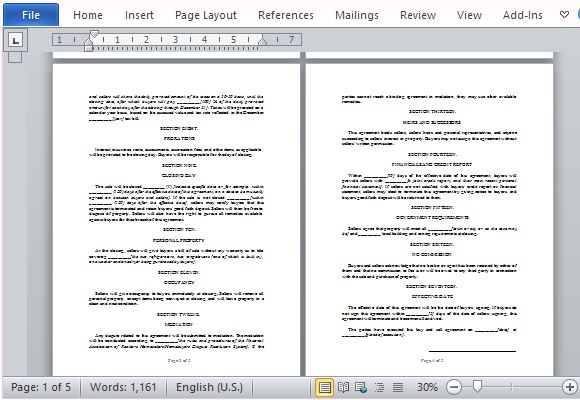 This legal template contains the date of the agreement or contract, and the names and addresses of the sellers and buyers. This first part of the contract allows for more than one buyer or seller, such as husband and wife.
Cover All Bases on Residential Property Sale
This residential property sale contract contains five pages in total, with various statutes of the contract divided into different sections. The first section describes the property; Section 2 describes the Sale Price; Section 3 describes the Deposit; Section 4 states the Payment Method both parties have agreed upon; Section 5 clarifies any Inspections; Section 6 tackles Title Evidence; Section 7 shows required Assessments and Taxes; and so forth.
The rest of the sections goes over other residential property concerns such as Prorations, Personal Property, Mediation, Heirs and Successors, Government Requirements, and most importantly, Effective Date.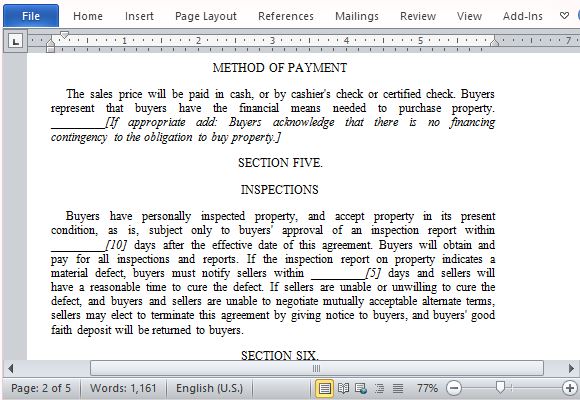 All the above mentioned contents of the residential property sale contract protects both parties from any liabilities and ensures that the sale of the property is done in good faith and that no laws or other rules were broken.
Update:
Since this template has been removed by Microsoft, you can download an alternative template from link below.
Go to Download Residential Property Sale Contract Form for Word (Alternative Template)