Effective and successful project management is the result of careful planning, keen organization, and keeping track of everything involving your project. One of the most important aspects of a project are expenditures, thus a good project manager must be able to maximize resources while still able to deliver on time and within budget.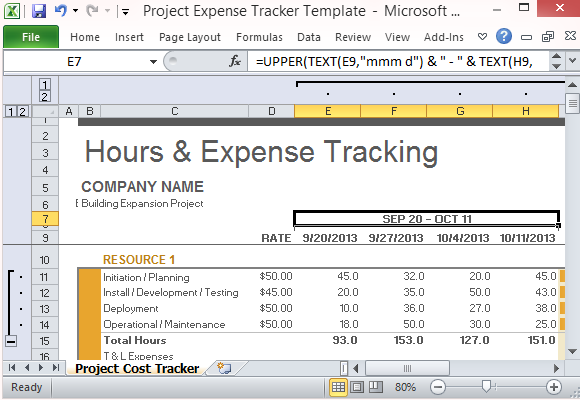 There are many Excel 2013 templates available for project management and one of them is the project expense tracker template. The Project Expense Tracker Template, like many project management templates available on the Office portal, allows you to track your project activities' schedule and expenses. This template allows you to be on top of your expenses and time, two of the most important resources of any business or project.
This template allows you to manage the multiple employees involved in the project, as well as the contractors or third-party suppliers. This project expense tracker template allows you to document and track for up to eight weeks of your project, with automatic reports and on-going totals for the entire duration of the project displayed at the bottom of the worksheet.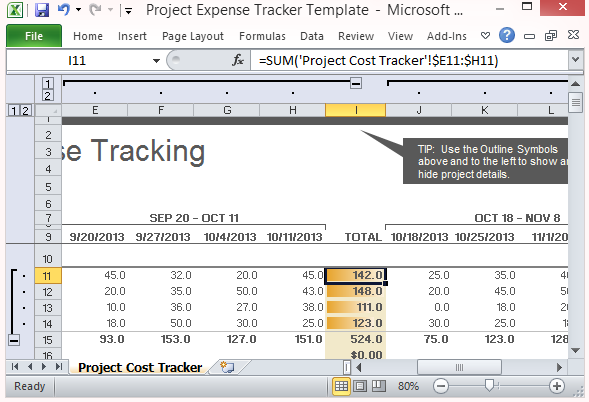 Auto-Compute Totals Instantly
This Project Expense Tracker Template is professionally designed for busy project managers to conveniently type in the figures and have them automatically computed and updated in the worksheet. The template comes with a built-in formula, making results accurate and uniform each time.
Easily Filter Data
This project tracker template is professionally designed to look sleek, streamlined and clear. You can type in your company name and the project you are working on. You can easily see the dates, as well as the summaries and categories. This template also allows you to easily filter data. Just click on the Outline Symbols to view your project summary or toggle to the expanded version.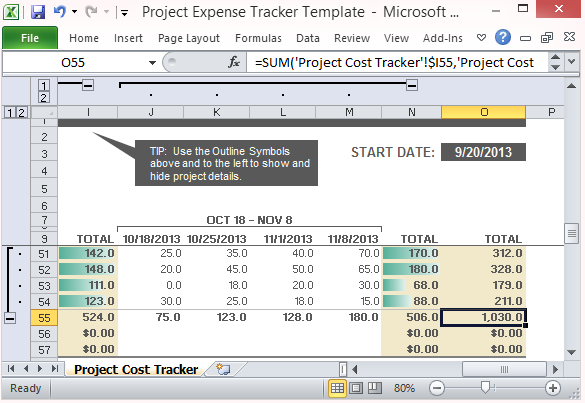 Display Resources and Vendors
This template also allows you to document your project's Resources and Vendors. Under Resources, you can have rates for initiation/planning, installation/development/testing, deployment, operational/maintenance. This information are displayed for each day of the project, with a summary also conveniently displayed in the template. For Vendors, you can view expenses and hours that are then summarized weekly and totaled at the end of every category. The summaries for Resources and Vendors are displayed separately at the bottom of the worksheet.