If you are a company involved in designing and manufacturing new products, especially breakthrough ones, you can definitely create more hype by creating press releases. A product press release, especially the one created at the launch of a new product, is a very effective way to promote your products as well as let everyone know about the benefits the products provide.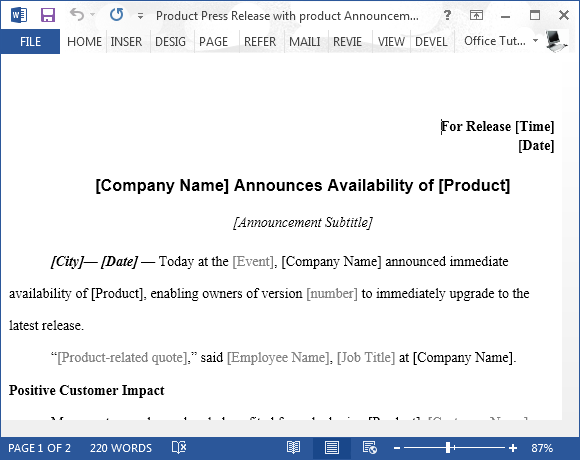 The Product Launch Press Release Sample for Word is a great and convenient template that you can use to easily create interesting and compelling press releases. It features all the necessary formatting and styles that are specific for product press releases. With a template such as this, you don't actually need to hire someone and pay additional money just for someone to write you a press release each time you launch a product, thereby saving you a lot in the long run.
This Product Launch Press Release Sample for Word features appropriate styling and formatting. It starts with a 'For Release' on the upper right-hand side of the template, with auto text placeholder for Time and Date next to it. Then, centered on the page is the title. Here, there's the placeholder for your Company Name, as well as sample title with placeholder for your product. There's also a readily available subtitle in smaller, italic font.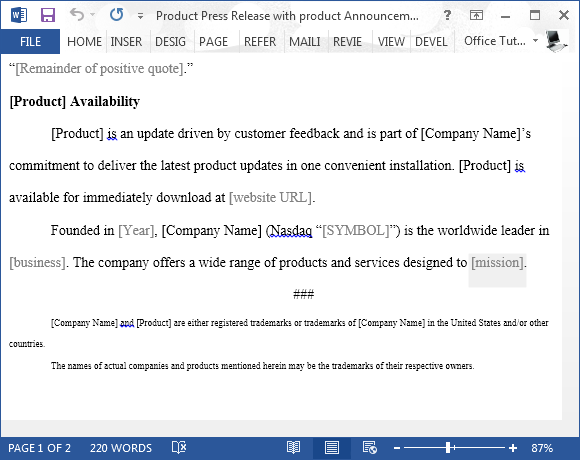 The body of the product launch press release contains the typical format for press releases, which contains the City and Date. The body of the press release is already almost complete because there are already placeholders and guides that you can easily fill out. With this, you don't need to be a journalism or marketing expert to create great press releases.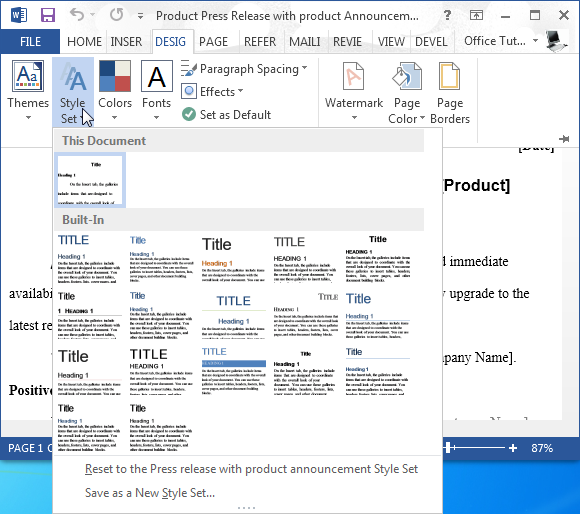 You can also keep this Word template with you anytime, so you can just pull it out whenever you launch a new product. You can upload this to your OneDrive account to have it available anytime because you can access it conveniently through any device such as notebooks, tablets, computers, or even your smartphone.