Processes can be challenging to present, especially if you require presenting a complex process. This is true especially for PowerPoint presentations. Nowadays, presentations are meant to be jam-packed in just a few slides in order to inform and yet keep the audience interested and attentive.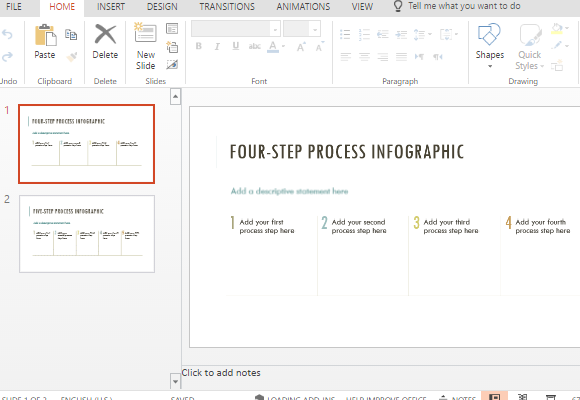 The Process Infographic PowerPoint Online Template is a free template that is specially created to keep your process presentations short yet highly informative. This template follows the same look of infographics, which are visual aids in conveying comprehensive information about certain subjects. This will allow you to effectively impart important details without taking up a lot of slides and therefore boring your audience.
This process infographic template suits most modern themed presentations with its clean, clear, crisp and sleek look. It is also designed to be versatile enough to match other types of presentations, especially since the theme and the infographic diagram can be easily customized with color palettes and effects.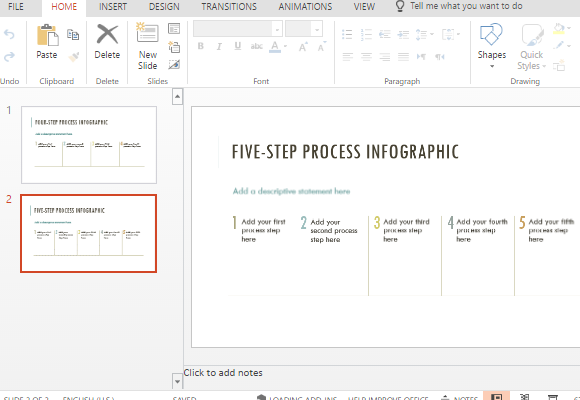 The template contains two slides, each containing an infographic with different numbers of steps. The first one is a four-step infographic with a horizontal orientation, which is great for putting processes side by side. There are already numbers for each process, and you can easily type in your own process description in the space provided.
The second slide is the same, except that it has five steps, which is great if you have a longer process to discuss. Still, you can also add more steps or add a set of steps on another slide if you have a much longer process to undertake. It is important to note, however, that you should keep your process presentation brief and clear so that your audience can easily understand it.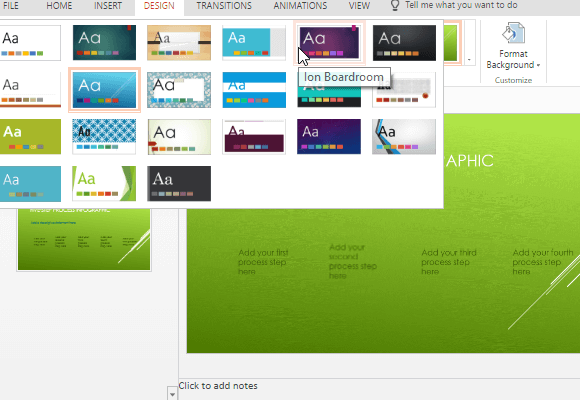 You can insert this process infographic template to any existing slide you may have or even build from this template if you like its minimalistic and modern theme.
Go to Download Process Infographic PowerPoint Online Template