Moments with family, even the most mundane, everyday ones, are priceless. Seeing the children grow up so swiftly before your eyes, it is best to document every moment with them as they grow. A photo album is a wonderful way of documenting special moments and memories with your children and your whole family.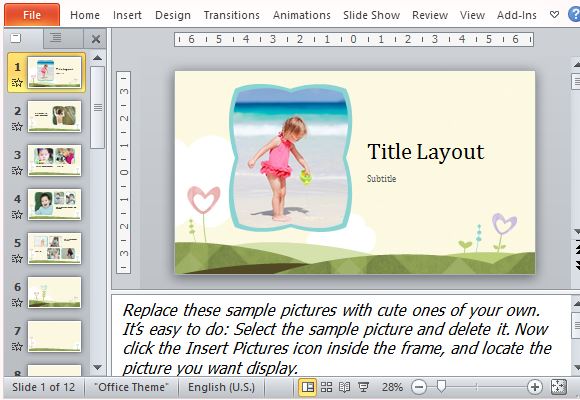 Capture Memories in PowerPoint
Despite our digital age, nothing beats gathering together with family and friends as you look at your photo album, browsing through photos from years past and seeing how the time just flew by. With the PowerPoint Photo Album Template, you can create a beautiful photo presentation in PowerPoint that you can watch with your family as you sit down and relax on your couch in your living room. You can enjoy browsing through a slideshow of memories as you sit together in front of the television and watch it from there.
This PowerPoint Photo Album Template allows you to instantly capture and display your memories, all in a beautiful and attractive package. The template works best in PowerPoint 2013 but still remains compatible with earlier versions.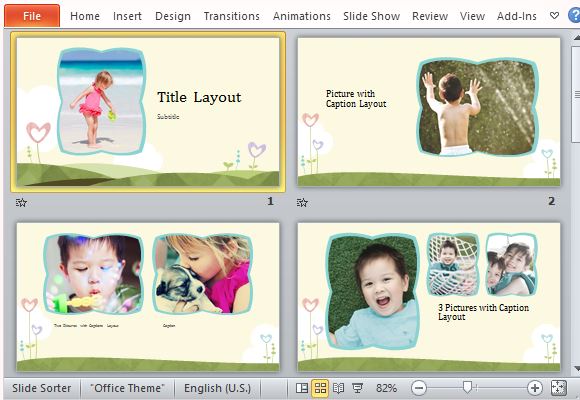 Enjoy Beautiful Slides of Photos
The PowerPoint Photo Album Template features 12 slides, each with different professionally designed layouts. This allows you to insert one to multiple photos for each slide. The first slide is a cover or title slide where you can insert your main photo to introduce the rest of your album. The inside slides contain various layouts, all with the same theme–a graphic, cartoonish lawn of heart-shaped flowers.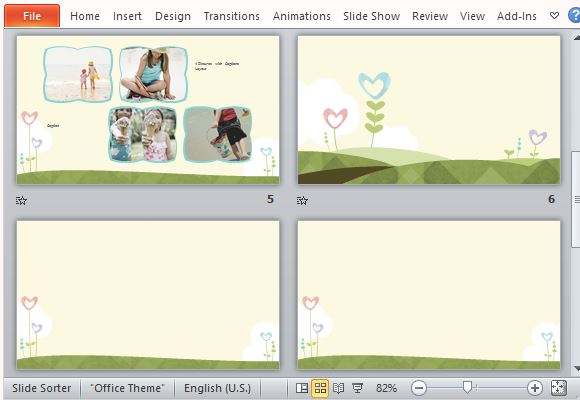 The photo album features various border styles as well, with bright colors that stand out on a cream-colored slide background.
This PowerPoint Photo Album Template already contains preset photos that you can exchange for your own. You can even add text boxes for captions and notes about your photos.