When you are campaigning for yourself to gather votes for public office, it is important to make yourself memorable and make your campaign catchy and compelling. This allows people to remember you and therefore give you a better chance of winning when election comes. There are many political campaign tools available for this, and perhaps one of the most used is the political bumper sticker.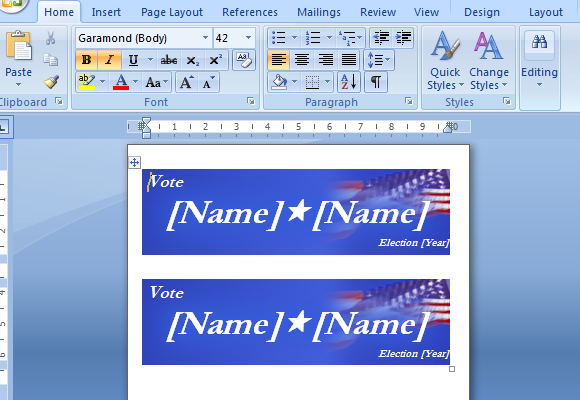 The political bumper sticker is a very helpful campaign and marketing tool that can help you get the word out about your campaign. So to help you find a cost-effective way of creating a political bumper sticker, you can use the Political Bumper Sticker Template for Word.
This Political Bumper Sticker for Word is very helpful in giving you an eye-catching bumper sticker for your campaign without the high cost that usually comes when you hire someone to design and print this for you. By using this free template, you secure a lot of savings that you can allocate on other things for your campaign.
This template can be used by anyone, because you don't have to be knowledgeable in graphic designing. There is already a preset design that is included in the template, and all you have to do is type in your name in the placeholder. There's enough name for you and your running mate, or even just your full name in clean, big, and bold text that is highly readable even from afar.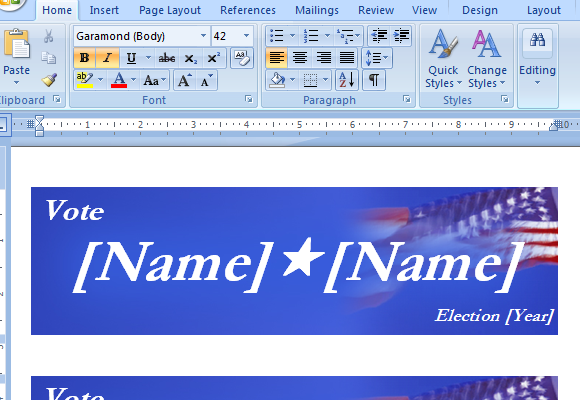 Furthermore, there is also enough space for the election year. You only have to fill in the current year in the placeholder.
The template is in blue, which is already eye-catching and easy on the eyes as well. There is also the American flag waving in the background. These deep, bright colors go perfectly against the plain white text.
And because this template can be uploaded to services like Microsoft OneDrive, you can access it anytime using any computer or mobile device. You can easily edit and then print as many copies as you need, which is very important especially if you are on the road.