Whether you are involved in the medical, healthcare or pharmaceutical industry, you know that presenting latest information and studies in your field is part of the job. And if you're like many people who prefer to concentrate more on your content instead of trying to make your slideshow look pretty, you often find yourself faced with a bored audience.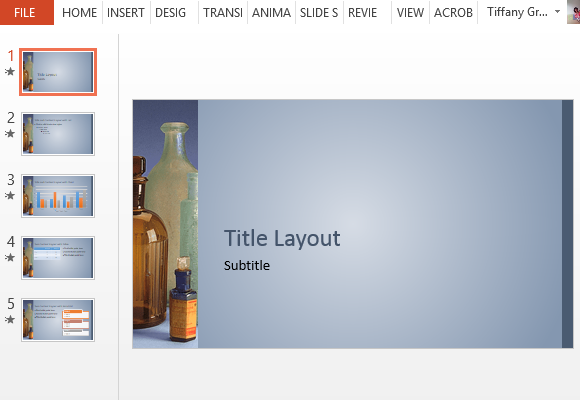 This is because aside from content, the way your presentation looks is still important. Whether it is for a project proposal, product overview, annual report, meeting agenda, or even a sales report, your presentation must have a look that suits your field of expertise. The Pharmacy Medical PowerPoint Template can help you not only grab the attention of your audience, but also enable you to present your medical or pharmacy related information in a clear and professional manner.
This Pharmacy Medical PowerPoint Template features a clean, crisp, light blue background with a gradient effect and a darker blue line on one side as an accent. On the other side of the slide, adding an interesting touch that echoes your medical theme, is an image of old and traditional medicine bottles.
This look is perfect for business, education, and even personal use, especially if you are conducting a school project and tackling the history of pharmacology. Still, the template is perfect for all other medical and pharmacy related topics.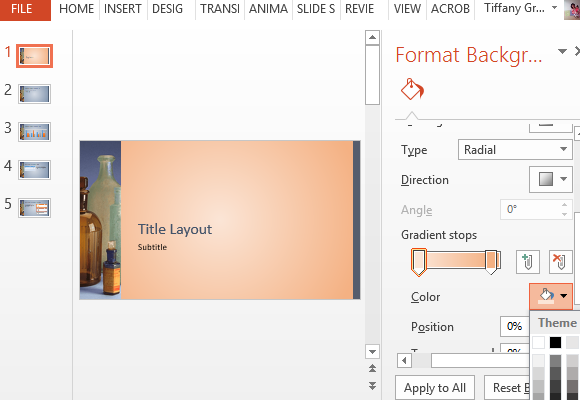 The template starts out with 5 sample slides that showcases the different built-in slide layouts that allow you to present your data in different ways. There are slide layouts for your title and for creating lists, bar graphs, tables, and diagrams. Furthermore, when you click on New Slide in the Home menu, you can populate more slide layout options that allow you to create transitions, text, captioned photos, comparisons, and many more. You can even customize these slides to your own purposes.
You can also customize the slides to match your company colors or your personal preferences. Format the background colors and effects by going to the Design tab in the Ribbon. You can also insert your company logo on the slides for brand recognition.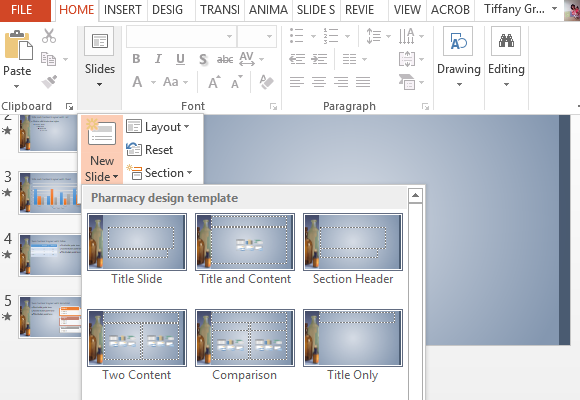 If you're on the go or are constantly traveling, you can also use this template via PowerPoint Online.